U.S. scrap plastic exports fell by 12% in 2021, even though some countries, such as India and Mexico, brought in a whole lot more material.
The U.S. exported 1.21 billion pounds of scrap plastics in 2021, down from 1.38 billion pounds the year before, according to an analysis of U.S. Census Bureau export data. Data for the fourth quarter of 2021 was recently released, allowing Plastics Recycling Update to calculate full-year 2021 numbers and compare them with prior years.
The downward move last year continues a years-long decline in plastic exports. In 2017, the year China's National Sword campaign was first announced but had not yet gone into full effect, the U.S. exported 3.68 billion pounds.
Since National Sword, there has been a distinct shift in where material is flowing, alongside an overall decrease in exports.
The following shows total U.S. scrap plastic exports over the past five years (story continues below chart):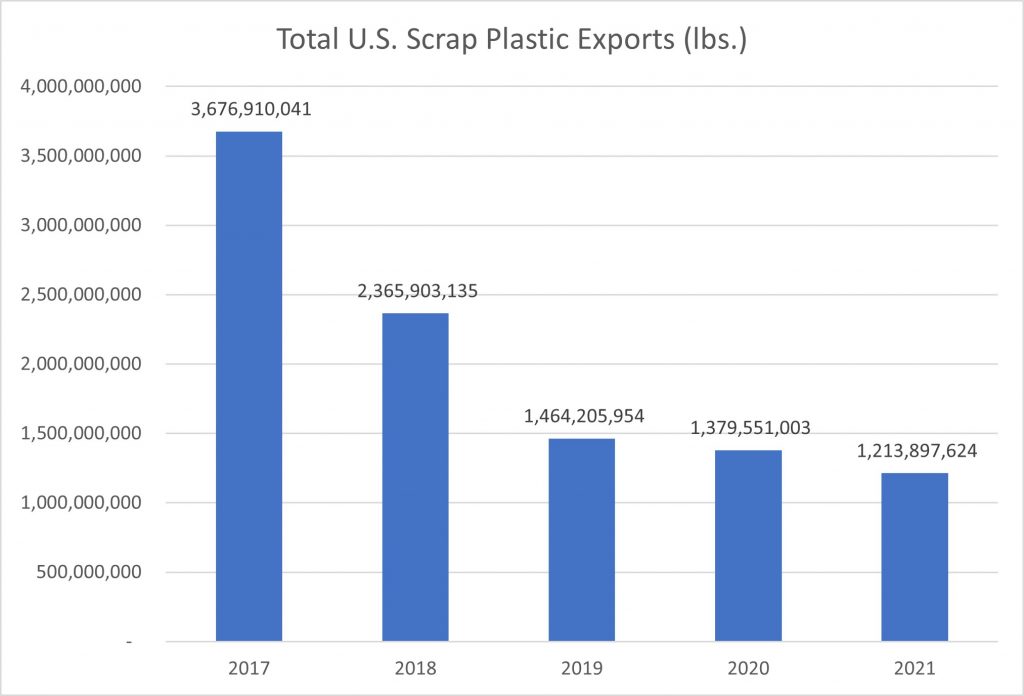 Last year brought some wild swings in weights shipped to the top 10 destinations for U.S. scrap plastics. Those countries receiving considerably more of the U.S.'s scrap plastic included India (110% more), El Salvador (77% more), Mexico (34% more), Indonesia (27% more) and Canada (2% more).
Others dramatically slashed the amount they brought in from the U.S. Those included Hong Kong (down 72%), Taiwan (down 56%), Malaysia (down 32%), Vietnam (down 31%) and Turkey (down 24%). All other countries not in the 2021 top 10 combined were down 35%.
The following chart shows the top 10 recipients (plus all other combined) in 2021, compared with their numbers the year before (story continues below chart):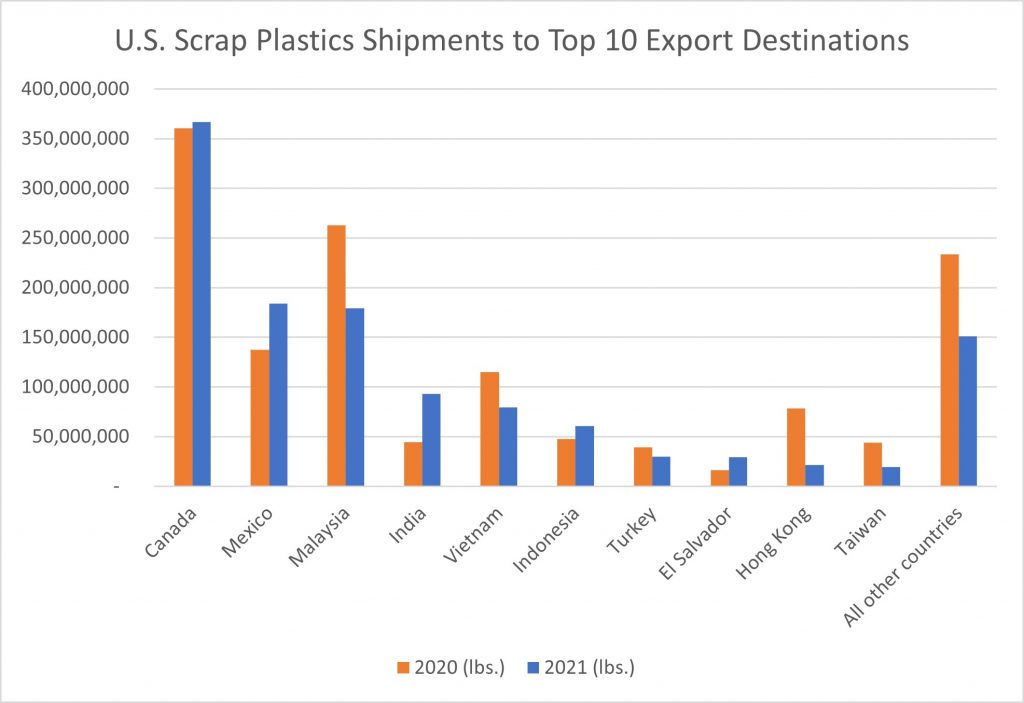 Canada remains, by far, the largest destination for scrap plastic bales. The U.S.'s neighbor to the north jumped into the No. 1 spot starting in 2019, following Malaysia's National Sword-inspired crackdown on imports.
Starting in 2021, an amendment to the The Basel Convention on the Control of Transboundary Movements of Hazardous Wastes and Their Disposal went into effect. The amendment intended to further regulate the global trade in plastics, banning shipments of certain types of material. The U.S. and Canada negotiated an agreement that continued allowing the countries to trade without the additional Basel controls, however.
Since the Basel Convention amendment went into effect, environmental justice activists have pressured shipping lines to stop accepting cargo that consists of plastic waste. The latest line to announce a halt to the practice was CMA CGM Group, the third-largest ocean freight line in the world.
More stories about exports