Scrap plastic exports from the U.S. decreased last year, but shipments to certain countries grew sharply, according to newly released figures from the federal government.
The U.S. Census Bureau, part of the U.S. Department of Commerce, on Feb. 5 released trade data for December 2020, allowing for a full-year analysis of recovered commodity exports.
The figures indicate U.S. exporters shipped 1.37 billion pounds of scrap plastic in 2020, down from 1.46 billion pounds the previous year. The 2020 figure is the lowest scrap plastic export weight since at least 2002, when records begin.
Canada was the largest importer, bringing in 349 million pounds throughout the year, or 26% of all exported U.S. scrap plastic in 2020.
The large quantity moving into Canada is significant, in light of recent changes to the Basel Convention, a global treaty covering waste shipments. The changes have many complexities, but generally speaking they will likely significantly restrict the movement of U.S. scrap plastic to numerous countries. However, the U.S. and Canada recently came to an agreement that exempts scrap plastic trade across their border from the new Basel rules. That suggests scrap plastic trade with Canada may continue despite the disruption in other export markets.
Besides Canada, other top importers included Malaysia (263 million pounds), Mexico (137 million), Vietnam (115 million), Hong Kong (78 million), Indonesia (48 million), Taiwan (44 million), India (44 million), Turkey (39 million) and Thailand (38 million).
The quantity moving into Malaysia is particularly noteworthy. It represents a sharp increase after the country took steps to limit the amount of scrap plastic entering its borders. Exports to Malaysia skyrocketed following China's 2017 restrictions and 2018 ban on recovered plastic imports, as many Chinese plastic recycling firms relocated to Malaysia. U.S. exports to Malaysia increased from 85 million pounds in 2016 to 267 million pounds in 2017 and then 450 million pounds in 2018.
Authorities quickly began implementing regulations to slow the surging imports, and in 2019 the country reduced imports to 134 million pounds. But the latest data shows the weight nearly doubled in 2020.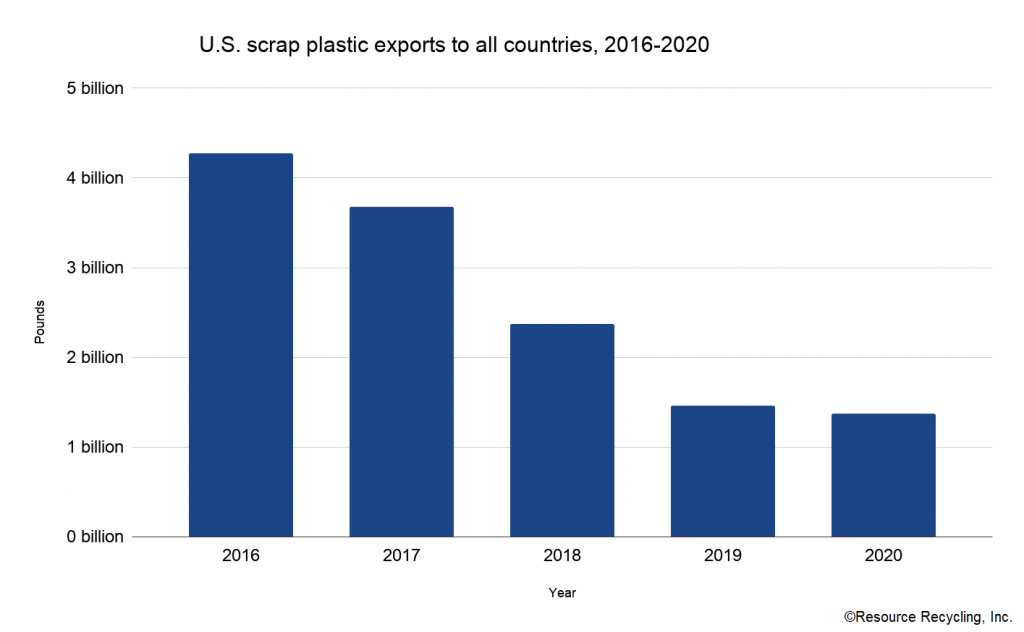 A version of this story appeared in Resource Recycling on February 5.
More stories about exports