Recovered paper shipments from the U.S. to China slowed immensely as 2020 drew to a close, newly released figures show. Meanwhile, scrap plastic exports decreased during the year, but shipments to certain countries grew sharply.
The U.S. Census Bureau (part of the U.S. Department of Commerce) on Feb. 5 released trade data for December 2020, allowing for a full-year analysis of recovered commodity exports.
Fiber exports to China dry up as year ends
Recovered fiber exports totaled 15.9 million short tons in 2020, down from 18.3 million short tons the prior year. That's the lowest volume exported since 2003. It's also down 27% from 2016, before China and other countries announced significant import restrictions on recovered commodities.
China bought the bulk of U.S. recovered fiber in 2020, importing 4.8 million short tons; however, that's an 18% decrease from the 5.9 million short tons China brought in during the previous year.
The export figures show a stark shift in trade with China as 2020 progressed. The Chinese government in November confirmed it would move to ban recovered fiber imports this year, a development that was long anticipated by industry insiders. 
Shifts in the run-up to that ban are reflected in the monthly shipment quantities. In January 2020, U.S. exporters shipped 427,000 short tons of recovered fiber to China. Exports peaked in September, with 654,000 short tons shipped to China, before falling sharply at the end of the year. In November, the U.S. exported 120,000 short tons to China, and by December the number fell to 40,000 short tons.
December represented by far the lowest total for monthly recovered fiber shipments to China on record, and November was the second-lowest. Monthly shipments to China hit a peak in December 2007 when they totaled 1.9 million short tons. The December 2020 volume is just 2% of that peak.
The Chinese government reduced its import permit approvals as 2020 progressed. The most recent recovered paper import permits were issued in mid-October, when just 104,000 short tons were given the go-ahead for import, according to data from China's Ministry of Ecology and Environment (MEE).
No import permits have been issued in 2021, according to MEE.
Beyond China, the order of top importers of U.S. recovered paper was similar to previous years. India (2.4 million short tons) brought in the second-highest total, followed by Mexico (1.5 million), Vietnam (1.4 million), Taiwan (960,000), South Korea (940,000), Canada (920,000), Thailand (640,000), Indonesia (520,000) and Malaysia (380,000).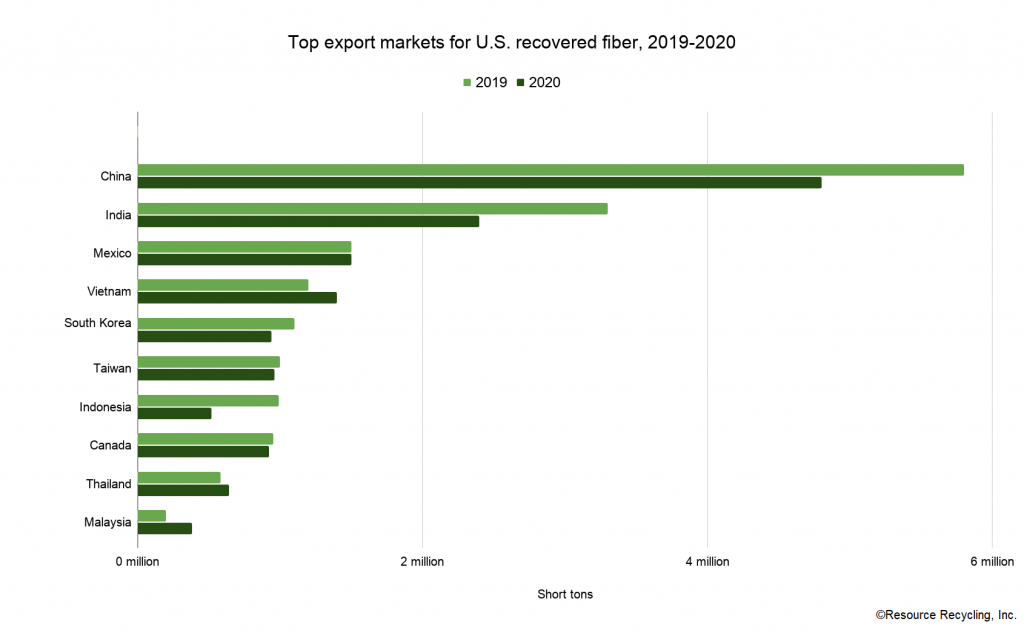 Lowest plastic exports on record, but some countries bring in more
Meanwhile, U.S. exporters shipped 1.37 billion pounds of scrap plastic in 2020, down from 1.46 billion pounds the previous year. The 2020 figure is the lowest scrap plastic export weight since at least 2002, when records begin.
Canada was the largest importer, bringing in 349 million pounds throughout the year, or 26% of all exported U.S. scrap plastic in 2020.
The large quantity moving into Canada is significant, in light of recent changes to the Basel Convention, a global treaty covering waste shipments. The changes have many complexities, but generally speaking they will likely significantly restrict the movement of U.S. scrap plastic to numerous countries. However, the U.S. and Canada recently came to an agreement that exempts scrap plastic trade across their border from the new Basel rules. That suggests scrap plastic trade with Canada may continue despite the disruption in other export markets.
Besides Canada, other top importers included Malaysia (263 million pounds), Mexico (137 million), Vietnam (115 million), Hong Kong (78 million), Indonesia (48 million), Taiwan (44 million), India (44 million), Turkey (39 million) and Thailand (38 million).
The quantity moving into Malaysia is particularly noteworthy. It represents a sharp increase after the country took steps to limit the amount of scrap plastic entering its borders. Exports to Malaysia skyrocketed following China's 2017 restrictions and 2018 ban on recovered plastic imports, as many Chinese plastic recycling firms relocated to Malaysia. U.S. exports to Malaysia increased from 85 million pounds in 2016 to 267 million pounds in 2017 and then 450 million pounds in 2018.
Authorities quickly began implementing regulations to slow the surging imports, and in 2019 the country reduced imports to 134 million pounds. But the latest data shows the weight nearly doubled in 2020.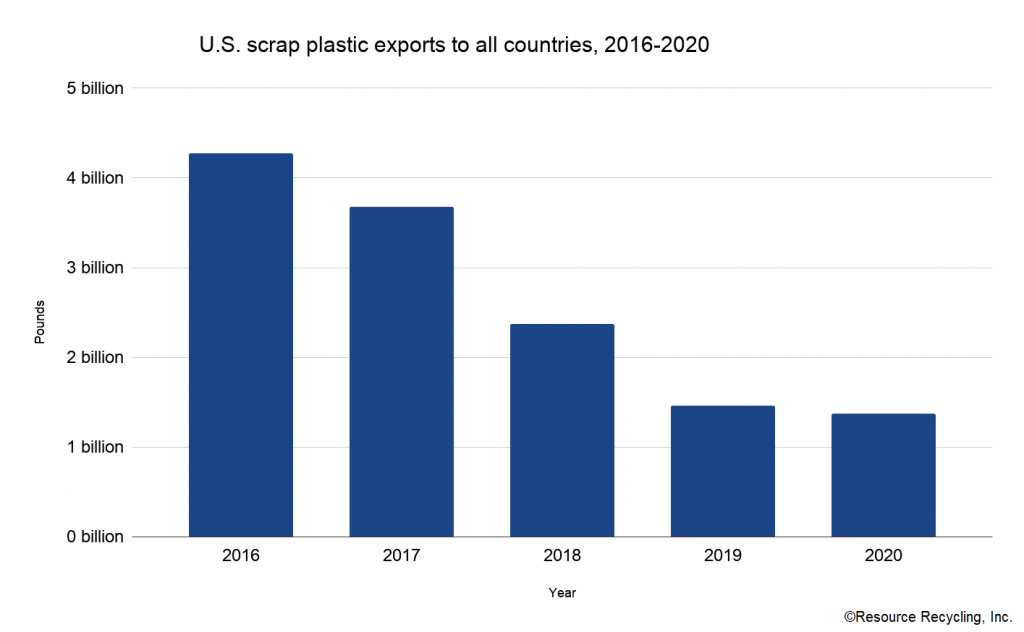 More stories about exports