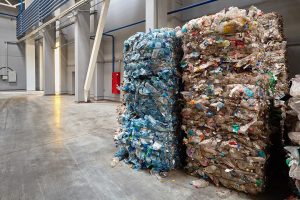 The U.S. exported 121.5 million pounds of scrap plastic in January, marking the lowest single-month volume since January 2005, trade records show.
The January figure, which was published by the U.S. Census Bureau last week, is down nearly 25 million pounds from December. And it's a 42 percent decline compared with January 2018. That puts the recent data in line with the full-year 2018 trend. In 2018, U.S. shipments were down 35 percent from 2017.
The largest importers of U.S. scrap plastic in January were Canada (27.7 million pounds), India (25.0 million), Hong Kong (14.0 million), Mexico (6.7 million), Malaysia (6.6 million), South Korea (6.2 million), Indonesia (6.1 million), Thailand (5.6 million), Taiwan (4.4 million), Turkey (3.8 million) and China (2.4 million).
India, which brought in 21 percent of exported U.S. plastic, recently announced a plan to eliminate scrap plastic imports altogether beginning at the end of August.
(Click chart to view full size in a new browser window.)
Photo credit: RYosha/Shutterstock
More stories about exports