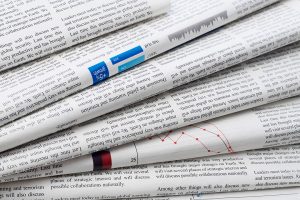 Industry stakeholders are pushing back against revived national media focus on the pressures facing U.S. recycling markets. Although those stresses are real, experts emphasize there is another side to the story.
The New York Times on March 16 published a front-page story highlighting municipal programs that have scaled back, suspended or cut curbside recycling service.
Earlier in March, the Atlantic asked, "Is This the End of Recycling?" Wired magazine explained that "The World's Recycling Is in Chaos." CBS News described a "slow-moving recycling crisis." The recycling industry has received substantial mainstream media attention for the past year and a half, since impacts from China's regulatory changes began to ripple across the Pacific.
The latest national stories in particular have reinvigorated attention on challenges in the recycling world – the articles have been repeatedly cited by other national publications and have filtered down to the local news level, where recycling coordinators are facing another round of doubt about the viability of recycling.
Still, companies working in the industry point to another narrative in the recycling world. They also note a continuing commitment to recycling, still-functioning markets and investments in infrastructure.
Waste Management, the largest hauler and materials recovery facility (MRF) operator in North America, told Plastics Recycling Update the company continues to move recovered material to end markets instead of landfilling. And the company says the elimination of recycling programs is extremely rare among the municipalities it serves.
"We are seeing our municipal customers focus efforts on reducing contamination in their collection stream rather than eliminating their recycling programs altogether," said Susan Robinson, federal public affairs director for the Houston-headquartered company. "In fact, of our over 5,000 municipal contract customers, we have only identified two that have chosen to pause or stop their recycling programs to date."
Meanwhile, experts also point to nuance in the commodity markets, making it difficult to generalize about the state of recycling as a whole.
"Although the pricing is down, the movement of materials is still occurring — and exports of recovered fiber to other countries, from the U.S., actually increased last year, not decreased," said Myles Cohen, president of Pratt Recycling, a division of Pratt Industries. "I wish more people would tell that side of the story, instead of some of the draconian messages that are being published."
Responding with investment
Recent activity by numerous companies, including Pratt Industries, a major paper packaging manufacturer, reinforces the narrative that recycling has long-term viability.
In the past few years, Pratt has made a variety of investments in its MRFs and recycled paper operations,  constituting hundreds of millions of dollars in U.S. paper recycling infrastructure, and the company has pledged more investment to come. Meanwhile, Waste Management spent $110 million on its recycling infrastructure in 2018, a sum that went toward facility investments, collection vehicles and recycling carts.
Robinson also pointed to the company's in-progress state-of-the-art MRF with "the latest recycling technology." This facility, which she said is being developed in Chicago, was referred to in Waste Management's annual sustainability forum as the company's "largest residential recycling investment" to date.
Additionally, Robinson cited current Waste Management investments in more optical sorters at its MRFs to sort and extract polypropylene and other resins besides PET and HDPE.
These investments are joined by numerous MRFs and municipal programs across the country that have responded to the challenges by putting more resources into recycling, rather than cutting it. Resource Recycling, sister publication to Plastics Recycling Update, charted recent MRF investments in multiple stories over the past few months, and companies continue to announce upgrades they've installed. Dem-Con Companies this week announced the Minnesota company installed four new MSS optical sorters in 2017 and 2018, a move Dem-Con said has decreased costs and improved its ability to market material. The company is installing further upgrades in the coming year.
In the end market sector, several North American plastics reclaimers, including EFS-Plastics, Enviroplast and Merlin Plastics are working to increase their purchases of the very materials covered by China's import restrictions: mixed plastics and low-grade MRF film.
Taken together, the money being spend indicates optimism among companies engaged in the business of materials recovery.
"Our recycling programs and contracts are getting stronger over time and the industry will be better off in the long run for the lessons we are learning and investments we are making now," Robinson said.
Rejecting common refrains
Tom Outerbridge, manager of Sims Municipal Recycling in New York City, said the Times article accurately identified real challenges facing the recycling industry. However, he offered a different take on some of the ideas quoted in the story, including the popular public notion that China was the world's "dumping ground."
"While there may have been bad actors importing contaminated material, the reason China was such a huge consumer of recyclables is its huge demand for raw materials, especially paper fiber – demand that would otherwise be met with virgin fiber," Outerbridge said.
He also pushed back against the notion expressed in the article that the industry accepts "the economic impracticality of recycling," instead stating that recycling of certain commodities such as aluminum and copper is overwhelmingly successful and has resulted in those materials remaining in circulation over and over again.
"We need to identify real obstacles and address them on a material-by-material basis, through public participation, market development, and designing products for recyclability," Outerbridge said.
Recycled commodity markets have fluctuated wildly over the past couple years, as overseas markets have opened and closed their doors to imported material and a flood of domestic material has pushed down prices. But even though parts of 2017 and 2018 were difficult across the board for recycled material markets, shifts throughout 2018 have stabilized certain commodities.
"Although there's lots of stories about the struggles of recycling, there are still decent domestic markets for mixed paper, OCC and the higher quality grades of recovered fiber," said Cohen of Pratt Recycling.
"The industry challenges for recycled materials are isolated to certain materials collected from certain market segments, such as some residential single-stream in cities that are experiencing high rates of contamination," Cohen continued.
Plastics, for instance, have faced significant trouble – scrap plastic exports dropped 1.4 billion pounds last year, as overseas markets rejected the material.
Photo credit: goir/Shutterstock

More stories about markets