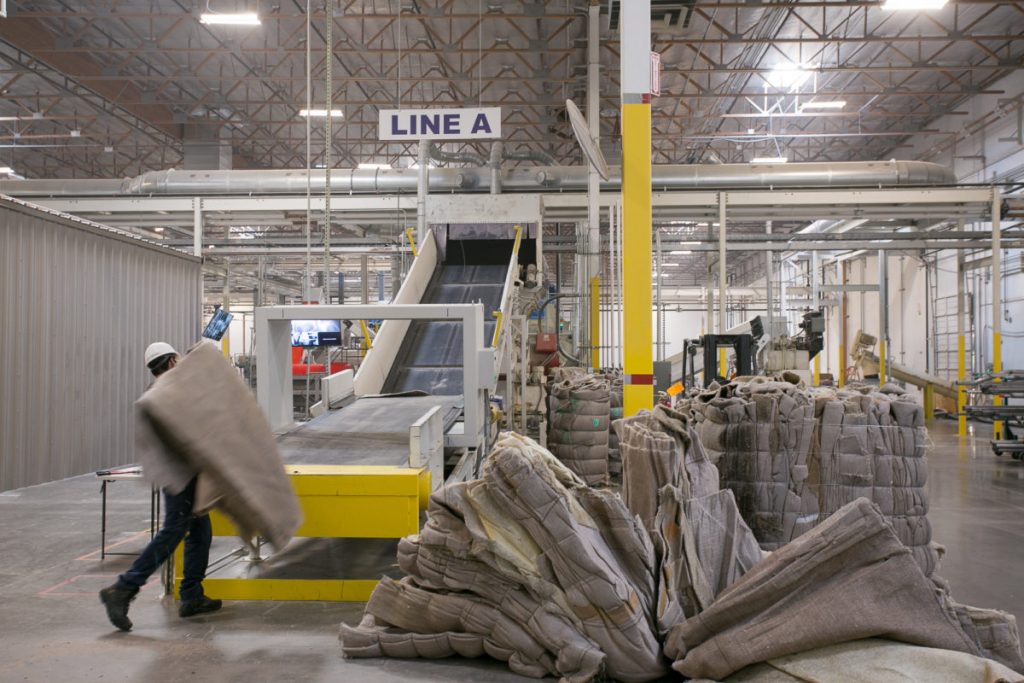 A new carpet recycling facility in Arizona is producing recycled PP for injection molding and nylon 6 for chemical recycling into a number of high-end textiles.
In December, Aquafil opened its facility in Phoenix, marking its first carpet processing facility in the U.S. At the event, which drew about 160 visitors, Aquafil USA President Franco Rossi announced a second facility will open near Sacramento, Calif. this year.
Plastics Recycling Update in September 2017 interviewed Giulio Bonazzi, chairman and CEO of Italy-headquartered Aquafil, about plans for the $10 million Phoenix facility. The plant can take in up to 35 million pounds per year of carpet and separate the plastics and calcium carbonate for recycling.
Called Aquafil Carpet Recycling (ACR) No. 1, the 116,000-square-foot Phoenix plant generates multiple products. It creates recycled PP for use by outside product manufacturers. The recovered nylon 6 pellets are shipped to Aquafil's ECONYL Regeneration Plant in Slovenia, where a solvent-free depolymerization technology is used to break down the plastic into its building blocks. Those monomers are then polymerized and converted into fibers for use by major apparel and carpet brands. The calcium carbonate in carpets will be sold for use in concrete and road construction.
ACR No. 1 is described by Aquafil as only the first of many in the U.S. The next to open this year will be in Woodland, Calif., just outside Sacramento. Bonazzi told Plastics Recycling Update the ultimate goal is to source enough carpet through U.S. facilities that the company can open an ECONYL Regeneration Plant in the U.S.
Woodland isn't too far from another advanced carpet recycling facility that opened recently. Circular Polymers last year upgraded and reopened a carpet recycling plant in Lincoln, Calif., also near Sacramento. That plant, which Plastics Recycling Update wrote about last fall, recovers a wider variety of polymers for recycling, including PET, PP, nylon 6 and nylon 6,6.
Aquafil's investments are indicative of growing interest in recycling carpet, a difficult-to-separate material for which there are few processing outlets in the U.S., despite the fact post-consumer carpet is generated throughout the country in great volumes. Most is either landfilled or burned.
Photo courtesy of Aquafil.
To receive the latest news and analysis about plastics recycling technologies, sign up now for our free monthly Plastics Recycling Update: Technology Edition e-newsletter.
More stories about technology