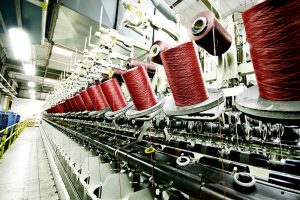 International yarn producer Aquafil will invest $10 million to build an Arizona operation generating nylon pellets from post-consumer carpet scrap.
The Italy-based company recycles polyamide in fishing nets and carpets into yarn for use in carpets and garments. A key step in the process occurs in its Slovenia operations, where a depolymerization technology is used to chemically break down the nylon 6 so it can be later polymerized again.
The nylon 6 is converted into fibers for use by dozens of brands, including apparel brands Adidas, Volcom and Stella McCartney as well as carpet manufacturers Interface, Milliken, Mannington and Tarkett Group.
In September, Aquafil announced it will build the Aquafil Carpet Recycling (ACR) No. 1 plant in Phoenix. Slated to open in 2018, the facility will employ about 50 people and will have the capacity to recycle 35 million pounds of used carpet each year. According to a press release, it's the first of a number of facilities planned for the U.S.
Plastics Recycling Update recently interviewed Giulio Bonazzi, chairman and CEO of Aquafil, to find out more about the technology and Phoenix facility.
Can you walk me through the steps involved in the system?
Giulio Bonazzi: The first step is the nylon waste rescue. We source nylon waste, such as used carpets and abandoned fishing nets, from around the world. We also have a take-back program with one of our apparel customers, Speedo USA, to upcycle the scraps from their swimsuits.
The waste is then sent to our ECONYL Regeneration Plant in Slovenia, where it undergoes a solvent-free chemical [depolymerization] process that returns the nylon to its original state. From there, it is polymerized and transformed into yarn, which is sold to a range of customers for commercial products such as carpet, swimsuits – even luxury fashion.
ECONYL yarn is a unique product, not only because it's 100 percent regenerated from nylon waste such as fishing nets and carpet fibers, but because nylon 6 can be regenerated an infinite number of times without any loss in quality.
Which processes will take place at this facility and what will the product leaving this facility look like?
The purpose of this facility is to collect end-of-life carpets and separate the components – a process that is highly challenging, but that we devoted much of our R&D to. The nylon waste that is obtained will then be shipped in pellet form to our ECONYL Regeneration Plant in Slovenia. The remaining components such as calcium carbonate and polypropylene will be used for road construction, cement production, engineering plastic and more. In this way, nothing is wasted.
Is the facility the product of a deal with the City of Phoenix? I know the city has been aggressive about trying to find local solutions for difficult-to-recycle materials.
The City of Phoenix and the Arizona Commerce Authority have been very supportive of the project, and they have provided valuable help by introducing Aquafil to a number of local resources and services. We chose Phoenix for its favorable business conditions, the presence of carpet collectors and the proximity of an environmentally conscious state like California.
What percentage of the current ECONYL yarn supplied by Aquafil is post-consumer content currently? Will the new plant help boost that percentage?
ECONYL yarn is currently produced with a minimum of 50 percent post-consumer waste, such as fishing nets and carpet, and 50 percent pre-consumer waste such as industrial plastic. Our goal is to produce ECONYL yarn with 100 percent post-consumer waste, and this carpet recycling facility is another step in that direction. Ultimately, we plan to source enough waste through U.S. recycling facilities that we'll be able to create an ECONYL Regeneration Plant in the U.S.
More stories about technology