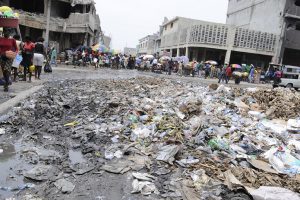 Envision Plastics has had success integrating marine plastics into the supply chain. But if more brand owners don't step up to purchase the material, the whole effort may have to scale back, an executive at the reclaimer said.
Reidsville, N.C.-headquartered Envision Plastics has processed millions of pounds of plastic at risk of entering the Caribbean Sea, calling the recycled resin OceanBound Plastic.
But the OceanBound project may not be economically sustainable at current levels because end users have purchased only a fraction of it at prices that cover Envision's costs, Tamsin Ettefagh, vice president of sales for Envision Plastics, recently told Plastics Recycling Update.
Specifically, of the 5.2 million pounds of ocean plastic Envision recycled during the first year of the project, the reclaimer had buyers for only 300,000 pounds – or about 6 percent.
A key to ensuring financial stability around the effort will be getting big consumer packaged goods companies to commit to buying OceanBound resin, Ettefagh said. Otherwise, Envision may have to reduce its purchases of material.
"In order to make collecting what we define as OceanBound plastic waste sustainable, Envision and the places we collect the scrap from need customers willing to make longer commitments than many of one-off purchases we have seen," she said. "Buying a few boxes does not cover the costs of creating a program and keeping it moving, and it's sad to see how much press [buyers] get for doing such a small amount. While something is better than nothing, it's only helping their image while, in reality, the negative image of plastics continues to grow."
Supply chain established
Envision, the second largest PE reclaimer in North America (after KW Plastics), sells tens of millions of pounds per year of recycled plastics into a number of markets, including food and drink packaging.
In April 2017, shortly before global media outlets and other entities became increasingly focused on the plastic marine debris issue, Envision announced its goal of recycling up to 10 million pounds of PE recovered from economically disadvantaged coastal areas over the course of two years. (It wasn't a wholly new effort; Envision previously worked on recycling marine plastics with cleaning products company Method, which rolled out a bottle made partially from ocean plastics in fall 2012.)
From June 2017 to May 2018, Envision recycled 5.2 million pounds of plastic recovered from coastal areas of Mexico's Yucatan Peninsula, Haiti and the Dominican Republic.  Ettefagh said the company is set to collect the same amount in the second year of the initiative, putting it on track to meet its goal of 10 million pounds.
With the project, Envision pays prices to suppliers that would be competitive in the U.S. market, so the foreign suppliers can create jobs, instead of relying on volunteers, and generate bales with specifications roughly equivalent to domestic curbside bales.
After receiving them, Envision sorts the marine plastics, compounds them and sells the pellets to a number of companies. Among the end users are R Murphy Knives, which uses the plastic in an oyster shucker; Primal Group, which uses it in its Vita brand of personal care products; Reflex Packaging, which makes thermoformed packaging for computers; and Oceanworks, which coordinates the supply of recovered marine plastics for use in products such as watchbands and buttons.
The latest company to announce it has begun using OceanBound Plastic is Nurture Hospitality Group (NHG), a U.S.-based hotel amenities company that launched in July 2018. Another partner in the effort is Mexican soap company Jypesa.
Meanwhile, the OceanBound Plastic has passed tests for use in food and drink packaging, and Envision is awaiting a letter of non-objection from the U.S. Food and Drug Administration, Ettefagh said.
Financial challenges persist
However, though ocean material is being recovered and some buying relationships for the resulting resin have been established, the OceanBound effort is still hitting serious economic roadblocks.
Because of the added costs associated with obtaining the OceanBound plastic, Envision charges more for it than it does for post-consumer resin collected through domestic markets. And that has caused hesitation among potential buyers.
One cost issue is U.S. tariffs – duties on scrap plastics from Haiti have gone up to about $3,600 per container, Ettefagh said, which equates to about 10 cents extra cost per pound. And upticks in freight prices have added another 6 cents a pound. Additionally, when Envision runs the OceanBound Plastics as a separate product, it must shut down recycling lines to switch over materials. Factoring in the costs associated with line shutdowns, the OceanBound Plastic costs about 20 cents a pound more to produce that domestically sourced scrap plastic, Ettefagh said.
But only a fraction of sales have been at the higher OceanBound price.
"When we built up so much inventory, we had to start blending it in with our post-consumer," Ettefagh said. That meant selling it at the lower price and absorbing the extra costs of freight and import tariffs.
All told, over the life of the project, Ettefagh estimates Envision has absorbed about $1 million of lost margin running OceanBound.
Current buyers of the ocean plastic resin have done well marketing the products incorporating the material, and they've received accolades from customers, according to Ettefagh. But if more buyers don't emerge for OceanBound Plastic, Envision will have to reduce its consumption of the recovered marine plastics, she said.
In fact, a potential supplier in southern Mexico recently contacted Envision about buying recovered plastics at risk of entering the ocean, but Envision told the supplier it can't take more volume until it boosts sales, Ettefagh said.
A number of major consumer product brand owners are considering using OceanBound, Ettefagh said. But Envision is still waiting for them to ultimately make the purchase.
The key is "just selling it at the price we'd have to sell it at to cover the costs," she said.
Photo credit: arindambanerjee/Shutterstock

More stories about marine debris