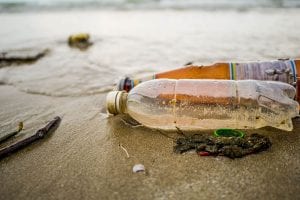 Global brand companies are among those that signed a commitment to publicly report their progress toward ensuring plastic products are recyclable and actually recovered.
Nearly 300 organizations signed what's called the New Plastics Economy Global Commitment, according to the Ellen MacArthur Foundation. The commitment is led by the foundation, in collaboration with United Nations Environment.
The pledge includes three main targets:
Eliminate problematic or unnecessary plastic packaging and move from single-use to reuse packaging models.
Innovate to ensure 100 percent of plastic packaging can be easily and safely reused, recycled or composted by 2025.
Circulate the plastic produced by significantly increasing the amounts of plastics reused or recycled and made into new packaging or products.
The targets will be reviewed every year and a half, and they'll become increasingly ambitious over the coming years, according to the Ellen MacArthur Foundation. Businesses that sign the commitment will publish annual data on their progress. Some of them already publish sustainability reports laying out progress toward their plastic packaging goals.
The signing of the New Plastics Economy Global Commitment was announced on Monday, in conjunction with the Our Ocean Conference in Bali, Indonesia.
Companies sign on to pledge
Well-known companies signing the pact include Danone, H&M Group, L'Oreal, Mars, PepsiCo, The Coca-Cola Co. and Unilever; packaging manufacturer Amcor; plastics producer Novamont; and waste management company Veolia, among others.
The announcement prompted a flurry of press releases highlighting companies' participation. Among those issuing releases were the Association of Plastic Recyclers (APR), food and beverage company Danone, hygiene and health products company Essity, health products brand owner Johnson & Johnson, PET recycling startup Loop Industries, packaging producer Mondi, food and beverage company Nestlé, packaging company Sealed Air, industry group The Consumer Goods Forum and labels company UPM Raflatac.
SC Johnson issued a release about its signing of the pledge and noting that it was working with Plastic Bank, a nonprofit group covered by Plastics Recycling Update last fall, to help increase plastics recycling rates in Indonesia. They will open eight recycling centers in Indonesia during the next year, paying local plastic collectors for material with digital tokens using blockchain technology.
Worldwide virgin plastics producer Borealis pledged to more than quadruple its recycled plastics volumes by 2025 as part of its commitment, ICIS reported. And virgin PET producer Indorama Ventures pledged to increase the amount of post-consumer PET and polyester it processes and sells.
California-based advocacy group As You Sow also signed the commitment but wrote in a blog post that it wasn't an easy decision because the commitments leaves key questions unanswered. As You Sow also expressed regret the commitment doesn't include support for producer responsibility programs as policy tools for financing recycling.
Expressing deeper skepticism was advocacy group Oceana, which said the companies need to reduce production of single-use plastics and stop using unnecessary plastics.
Other ocean plastics announcements
In related news, investment management firm Circulate Capital announced at the Our Ocean Conference in Bali that it expects to receive $90 million to combat ocean plastics. Led by Rob Kaplan, co-founder of Closed Loop Partners, Circulate Capital was spun off Closed Loop Partners' ocean plastics effort. The money will come from major companies including Danone, Dow, PepsiCo, Procter & Gamble, The Coca-Cola Co. and Unilever.
The PAC Packaging Consortium also released a white paper looking at what the packaging industry can do to address the issue of ocean plastics. The paper, released Monday, is the product of a partnership with Ocean Wise.
Finally, global companies Ikea and HP recently joined the NextWave consortium, which plans to recover and recycle more than 3 million pounds of marine plastic within five years. Other members of NextWave are Dell, GM, Herman Miller, Interface, Trek and Van de Sant. Plastics Recycling Update took an in-depth look at the effort in a February question-and-answer article.
Photo credit: Saint Thai/Shutterstock
More stories about marine debris