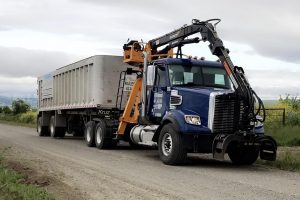 An agricultural plastics collection company has expanded substantially in the past year, opening a processing facility in California and growing its collection volumes across the Midwest.
Revolution Plastics officially launched in southern Wisconsin in June 2016, and expanded into Minnesota six months later. The company is now servicing 4,400 dumpsters on farms across the two states and has plans to expand by another 1,000 dumpsters this year. Through a smaller bag-based collection service, the company is also aiming to reach 2,000 additional customers by the end of 2018.
All told, Revolution now collects more than 250 million pounds of ag plastics per year, said Price Murphy, director of operations for Revolution Plastics. The company handles only LDPE film, because that's what its parent company, Delta Plastics, uses in its production plants.
"We're not big on collecting something and trying to find someone else to manufacture it," Murphy said in a recent interview with Plastics Recycling Update. "We collect items that we can wash, clean and turn into post-consumer resin and put back into our own facilities and our own products."
All of the material collected in those states goes to the company's Stuttgart, Ark. processing plant, which is near Delta Plastics' headquarters. Revolution may consider building a processing plant in Wisconsin or Minnesota, Murphy said, but it has to continue to grow the collected volumes.
California expansion
Revolution has made recent advancements in its California plastics collection program. The company collects about 40 million pounds per year in the state's Central Valley, Murphy said.
Last fall, the company received a $3 million grant from the California Department of Resources Recycling and Recovery (CalRecycle). Revolution has put that money – and a lot more, Murphy noted – into development of a processing plant.
Revolution has since acquired two related companies: Command Packaging, a Vernon, Calif. bag manufacturer; and Encore Recycling, a Salinas, Calif. ag plastics recycling facility.
"Now, we'll be able to collect that product in California, recycle it in California, and use it into our processes in the California facility," Murphy said, noting that material was previously sent back to the company's Arkansas processing plant. "That was our whole goal in the beginning, to set up these regional-type operations that keep the cost out of it."
In Minnesota and Wisconsin, the company provides dumpsters, which can hold about 1,400 pounds when full, and uses front-load refuse trucks for collection. That works well for the size of farms in those states and the climate.
But in California, there's an exponentially larger volume of plastic being generated. An average farm could have between 3,000 and 5,000 head of cattle, Murphy said, whereas in Wisconsin, the average is closer to 150 head of cattle. Dumpsters in California would fill up too fast, so "we actually just collect the material straight from the ground," Murphy explained.
Revolution uses custom-designed semi-trucks that have a grapple on the front and an open trailer. The driver can use the grapple arm and claw to pick up the plastic, shake the dirt and debris out of it, and place it into the trailer. The company has 80 of those trucks in its fleet, some of which are used in its plastics collection efforts in Arkansas and Texas.
Different collection models
Revolution does not charge farms. Farmers sign up and talk with the company about their location, plastic usage and volume of material. Then, they are put onto one of several collection plans, based on size, region and volume.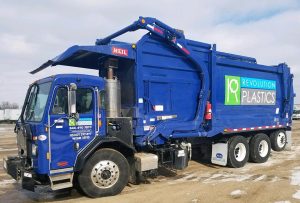 Revolution also offers an option called the "recapture bag," for farms not producing enough plastic to warrant a dumpster. The farm receives a set of plastic bags manufactured by Revolution, and they fill them with collected ag plastics.
In some areas where there aren't enough farms to warrant a regular pickup schedule, the company works with local solid waste authorities to allow drop-offs at landfills or transfer stations. Once the collected material reaches a critical mass, Revolution dispatches a truck to collect it.
Finally, farms nearby Revolution's facilities can bring plastic directly to the company.
"In the states of Minnesota and Wisconsin, northern Illinois, northern Iowa, there's no excuse for any farm not to be recycling right now," Murphy said. "Because we've given them three or four or five different options – none of them are hard, definitely none of them are expensive – to recycle their ag plastics."
Capturing more
The company's manufacturing operations use all the material Revolution collects, "and more," Murphy said. "We could collect twice as much as we do today without a problem."
There's no shortage of material: One widely reported figure estimates more than 1 billion pounds of ag plastics sold into the marketplace each year.
But similar to other recycling sectors, the challenge remains in communicating the recycling availability. In the ag plastics field, Murphy described a stockpiling phenomenon in which farms stack up plastic because they don't know where else to take it. Revolution's current record is collecting 150,000 pounds of plastic from a single farm in a single day.
Although the stockpiling trend continues, Murphy said farms are becoming more aware that they have a stockpile. Revolution used to get a lot more calls from farms who said they had a small pile of plastic, and it would turn out to be closer to 70,000 pounds of plastic. Farms are learning they have to schedule collection and accurately estimate the amounts, and the entire process goes more smoothly.
More stories about LDPE