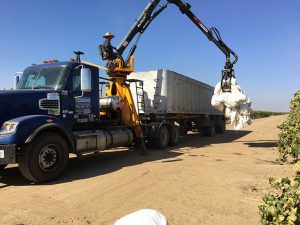 More details have emerged about Revolution Plastics' plan to build an agricultural plastics recycling facility in the heart of California's San Joaquin Valley.
The company recently received a $3 million grant from the state of California for the project. The plastics operation will build a 75,000-square-foot recycling and manufacturing facility just north of Dinuba, Calif., a town outside of Fresno.
Founded in 2016, Revolution Plastics is the post-consumer ag plastics collection arm of Arkansas-based Delta Plastics, which uses recycled resin in a variety of products, including garbage bags and irrigation piping.
The company already provides free collection of ag plastics, mostly LDPE film and irrigation tubing, for more than 400 ag-related operations in California, according to a Revolution Plastics press release. It describes itself at the largest ag plastic collection operation in the state, having collected more than 30 million pounds over the past year and a half.
Currently, the material is consolidated at yards in Central California and shipped to the Delta Plastics facility in Arkansas, where it's recycled. The California recycling and manufacturing plant is slated to come on-line sometime in 2018 and employ more than 100 people within the next three years, according to the press release. The Porterville Recorder recently published a story about the project and its local job impacts.
"The Revolution Plastics team focused on California because of the state's alignment with our core values and mission statement regarding closed-loop operations, landfill diversion and preserving our environment for future generations," Sean Whiteley, CEO of Delta Plastics, stated in the release. "Applying for and being awarded this grant is a testament to this alignment, and we are grateful to CalRecycle for the faith they have demonstrated in us."
Revolution Plastics also runs major ag plastics collection efforts in the Upper Midwest.
More stories about agricultural plastics