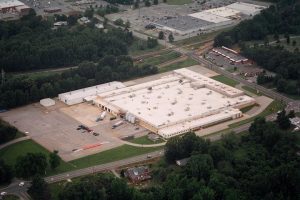 North Carolina-based Plastic Revolutions is expanding to separate certain resins from mixed plastic bales, a response to growing supply as China's import policies take hold.
Plastic Revolutions, located in Reidsville, N.C., has invested $600,000 and is adding 35 jobs in order to sort Nos. 1-7 plastic bales.
Ed Handy, vice president and general manager of Plastic Revolutions, shared details about the project in an interview with Plastics Recycling Update. The news was first reported by local news source Rockingham Now.
The company mostly processes HDPE in its 300,000-square-foot facility. It takes in scrap plastic drums, totes, pallets and other industrial products, as well as post-consumer bottles. The company shreds, granulates and washes plastics. Some of that washed flake is sold as is, and some of it, especially high-molecular-weight HDPE, moves to the company's extrusion line for pelletizing.
Before adding the new sorting line, the company was processing 54 million pounds per year. The expansion will increase production by about 10 million pounds in the first year, Handy said.
Plastic Revolutions' expansion into buying mixed plastics was spurred in part by the surplus supply. Mixed plastics have been particularly difficult for stakeholders to move in the months since China restricted scrap plastic imports.
"We were just looking at additional revenue streams for material that's readily available," Handy said. "Everything else we do is a very mature market, so it's hard to expand in it without paying outrageous prices to get the material."
At the facility, most of the sorting, including of the mixed plastic bales, is completed by manual sorters. The expansion adds a sorting line with 16 manual sorting stations, as well as a new baler.
The mixed plastic initiative will focus on Nos. 1 and 2 to start.
"We sort out the HDPE bottles and use them ourselves, and bale up the PET bottles and sell them into the marketplace," Handy said.
Currently, the company does not have a downstream outlet for other resins that may be present in mixed bales, and those plastics will likely be landfilled to begin with. Handy estimated that could make up about 25 percent of bale weight. The company is looking at sending the material to an energy-recovery facility in the future.
Companies sorting material out of mixed bales have experienced difficulties in recent years. A high-profile plastics recovery facility (PRF) that was sorting and processing mixed bales in the Baltimore area shuttered last summer and has had trouble starting back up. In 2016, a PRF in Atlanta closed and filed for bankruptcy.
Sometimes, even if the mixed bale material can be obtained for free, after all the sorting costs it's hard to recoup the costs, Handy said.
"We're venturing into that because of the availability of the material," he said. "We're going to try to make it work – it's really a tough market with these kind of bales."
Plastic Revolutions launched as an equipment manufacturer nearly three decades ago. The company transitioned into processing materials in 1998.
More stories about processing