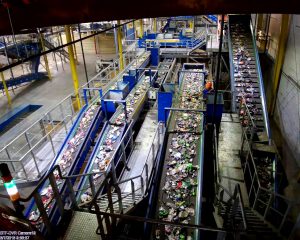 A joint-venture plastics recovery facility in Maryland will suspend operations in the coming days, citing challenges in the post-consumer plastics industry and pointing to a need to upgrade its equipment.
QRS Recycling and Canusa Hershman Recycling will idle their Dundalk, Md. site slightly more than a year after QRS closed a separate plastics recovery facility (PRF) in Atlanta.
The companies opened the 128,000-square-foot Baltimore-area PRF in November 2015, focusing on separating materials out of Nos. 3-7 bales. The Maryland location was sited to serve regional materials recovery facilities (MRFs) and reclaimers, according to QRS. It had a capacity of nearly 55,000 tons per year.
The facility was one of the first industry efforts to receive financial support from the Closed Loop Fund, a group backed by consumer-product giants and other companies that works to bolster U.S. recycling through corporate financing. The QRS operation was also seen as a pioneer in the push for domestic processing of mixed-plastic bales, which have traditionally been shipped overseas.
QRS continues to operate a bulky rigid plastics recycling operation in St. Louis and a MRF in Louisville, Ky. as well as other ventures.
Among its wide range of recycling-related assets, Canusa Hershman runs a processing facility handling plastics and other materials in St. Albans, Vt.
In the wake of China's National Sword
In a press release issued Friday, Aug. 11, Canusa Hershman said the idling will "enable an optimization of the equipment." The company has received several proposals that would lead to an acquisition of the facility or a new joint venture and would involve incorporating new technology into the facility, the company stated.
The release referenced China's National Sword customs enforcement effort, and it stated the companies remain "committed to being at the forefront of finding a viable domestic solution for post-consumer plastic waste."
The move comes just weeks after Chinese authorities indicated they would be banning imports of a wide range of recovered materials. Some stakeholders have noted China's actions could open more pathways for companies like QRS that work to sort plastics on U.S. soil.
However, QRS has nonetheless encountered market barriers.
"While the fundamentals of the post-consumer plastic resin business are currently challenged there is a growing consensus amongst consumer products companies, virgin resin producers and government agencies that the country must come to grips with the burgeoning plastic waste stream," the release stated.
The companies previously told Plastics Recycling Update that as of late last year, they had found end markets for most of their recovered plastics, except PVC and PS.
During the facility's development, the project received a $2 million loan through the Closed Loop Fund. The project cost $15 million overall, and was featured prominently in a New York Times profile of the Closed Loop Fund.
QRS shuttered its Atlanta facility in May 2016, citing challenging market conditions and technology constraints. The facility was under a separate company umbrella, which filed for Chapter 11 bankruptcy protection shortly before the closure. The company said it owed more than $14 million to creditors (that figure represents total QRS debt, not just that tied to Atlanta).
The Atlanta facility utilized less-sophisticated equipment than the Baltimore-area PRF. After the Georgia closure, the company moved that plant's production to the newer Baltimore-area operation, Plastics Recycling Update previously reported.
More stories about markets