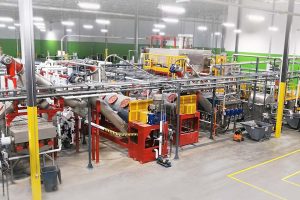 Both dry and wet de-labeling systems are helping CarbonLite's new PET recycling facility overcome challenges from problematic bottle labels.
CarbonLite's $62 million, 250,000-square-foot PET recycling facility in Dallas began operation in September. It's the second site for the company, which has for years operated a similar-sized plant in Riverside, Calif., near Los Angeles. A year ago, Plastics Recycling Update reported on the project to build the Dallas plant, which has an annual capacity of 100 million pounds.
Italian recycling equipment company Amut, which supplied de-labeling and washing systems for the facility, recently issued a press release with more details on the equipment.
According to Amut, the equipment line is capable of generating 12,000 pounds per hour of food- and drink-contact PET from post-consumer PET bales generated by materials recovery facilities (MRFs). The washing section is capable of handling 6 metric tons per hour.
Overcoming label challenges
California has a container redemption system and extensive curbside collection infrastructure, but Texas and its surrounding states do not have bottle deposit programs (which usually generate cleaner PET bales than curbside collection systems). Additionally, Curt Cozart, a consultant with expertise in designing plastics recycling systems, noted that deposit programs don't tend to include as many types of containers with problematic shrink-sleeve labels, which can cause problems for PET reclaimers (see the February print edition of Plastics Recycling Update magazine for an in-depth look at shrink-sleeve label challenges and solutions).
At the Texas plant, CarbonLite is using an Amut de-labeler, which has been integrated with the wet whole bottle pre-wash, Anthony Georges, president of Amut North America stated in the press release.
"When you are dealing with commingled MRF bottle bales you need to be able to detect and remove all non-PET and color PET containers prior to entering the final washing process," he said. "By utilizing our double stage, we perform with the first [de-labeler] the dry cleaning action able to detach most of the shrink sleeve labels, while the second unit is a wet [de-labeler] process to pre-wash the whole bottles and reduce wear effect on grinders blades."
The wet bottle washing technology uses filtered and recirculated flake-washing water.
Other equipment
After de-labeling and optical sorting, clear PET bottles are further processed. Amut's contributions to the plant include a wet-grinding system to generate flake, two flake friction washers and two float-sink tanks, which are capable of recovering the floating polyolefin bottle caps so they can be sold to other companies for recycling.
The Dallas line is the third major system Amut has sold in North America in recent years. It also supplied systems to Unifi, which recycles PET bottles into polyester fiber at a North Carolina plant, and to PetStar, a massive Mexico City-area facility generating recycled resin for beverage containers.
To receive the latest news and analysis about plastics recycling technologies, sign up now for our free monthly Plastics Recycling Update: Technology Edition e-newsletter.
More stories about technology