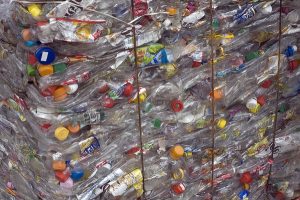 CarbonLite, a reclaimer producing food-grade recycled PET, will double its processing capacity this year with the construction of a $62 million facility in Dallas.
The company already operates a major PET bottle recycling facility in the Los Angeles area. The largest buyers of its recycled PET pellets are Nestlé Waters North America and PepsiCo, which use them in new drink containers. CarbonLite's customer base is one of the reasons the company looked at Dallas for its new facility, which is projected to open in June.
"Dallas has great shipping lanes and we are close to Nestlé facilities for supply of food grade rPET pellets," Leon Farahnik, co-founder of the company, told Plastics Recycling Update.
Lone Star expansion
CarbonLite opened its first bottle-to-bottle processing plant in Riverside, Calif. in 2012. The company receives half-ton bales of scrap PET from municipal curbside collection programs and deposit redemption centers. At the facility, bales are broken and sorted to produce clear and green PET streams. These are ground into flakes, washed, melted and decontaminated. The U.S. Food and Drug Administration has issued a letter of non-objection allowing the technology to be used to recycle post-consumer plastics into food and drink packaging.
The 220,000-square-foot California facility had a start-up cost of about $60 million. It can process 100 million pounds of PET each year, and Farahnik said it's now operating at full capacity.
The company's new plant in Texas will have similar specifications. It will be 230,000 square feet with an annual processing capacity of 100 million pounds. In one respect, however, the new plant is unique: It is powered by 100 percent "green power," which was not available for the Riverside plant, Farahnik said.
The new recycling facility will rely on equipment from U.S.-based Bulk Handling Systems, Italy-based Amut, Erema Recycling System of Austria, and U.S.-based Pelletron.
The Dallas facility had a somewhat rocky beginning. The expansion was first announced in 2013, when the company planned a new $40 million plant in the Texas city of Abilene, about 180 miles west of Dallas. The region was favored due to Nestle's Ozarka brand, which is bottled in the state and was increasing its use of recycled content.
But the Abilene plant never came to fruition. A deal between the recycling company and local developers collapsed amid personnel changes, project delays and other disagreements, according to local ABC affiliate KTXS.
Sufficient supply?
With the doubling of CarbonLite's capacity comes a natural question about whether there is enough scrap PET available to fulfill the new plant's needs. Farahnik said there is a large supply of scrap PET bottles, provided they don't get exported to China or elsewhere.
The Dallas facility will source its PET bottles from Texas and other nearby states, Farahnik said.
The most recent PET recovery report, compiled by the National Association for PET Container Resources and the Association of Plastic Recyclers, provides a snapshot of the export market. Out of about 1.8 billion pounds of PET bottles recycled in 2015, nearly a quarter were exported out of the U.S.