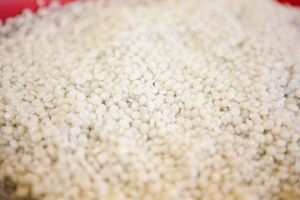 A plastics recycling giant in Alabama will likely be significantly increasing its output of recycled natural HDPE after receiving a letter of no objection (LNO) from the U.S. Food and Drug Administration.
The development will also mean more procurement of HDPE bales by KW Plastics.
"The demand we'll see from our sales side will make its way directly down the supply chain," said Stephanie Baker, director of market development for the recycling division of KW Plastics. "I expect we will be buying more than we ever have before."
The Troy, Ala.-based plastics processor and resin producer announced this morning it had been granted the LNO for its KWR101-150 product. The letter opens the door for utilization of the resin at up to 100 percent recycled content under the FDA's E-G conditions of use categories. That designation essentially means the resin can be used to hold contents that are at room temperature or below.
Baker said the resin noted in the LNO is already a staple of the KW product portfolio. Now, however, the company will be able to push it out to more buyers who are aiming to use recycled natural HDPE in food-contact applications. Baker said brand owners in the personal care category have been especially hungry for this kind of product.
Scott Saunders, general manager of recycling at KW, said the company expects demand for the resin will immediately jump by 8 to 10 percent.
"KW invested the research and development towards this resin so that we can better serve our customers and meet their demand for more sensitive applications," Saunders noted in a press release.
No price premium
Previously, many of KW's recycled HDPE buyers would need to also procure virgin material to serve as a barrier in food-contact applications. By being able to supply the product with an LNO behind it, the company could be helping those clients buy more efficiently.
"Our customers can expect a reduction in resin inventory costs, storage and logistics requirements," Pedro Morales, KW director of sales and marketing, said in the release.
He added the company will not be charging a premium for the FDA-compliant resin.
Baker said the company currently sells roughly 100 million pounds of the recycled HDPE product annually. With the letter, she noted, KW now expects that production to move closer to the company's capacity of 130 million pounds per year.
She added KW spent around two and a half years testing the resin and fulfilling requirements that led to the LNO.
Over the past four years, KW has received two LNOs for a recycled PP called KWR621FDA PP. The recent LNO is the first the company has garnered on the HDPE side.
To receive the latest news and analysis about plastics recycling technologies, sign up now for our free monthly Plastics Recycling Update: Technology Edition e-newsletter.
More stories about HDPE