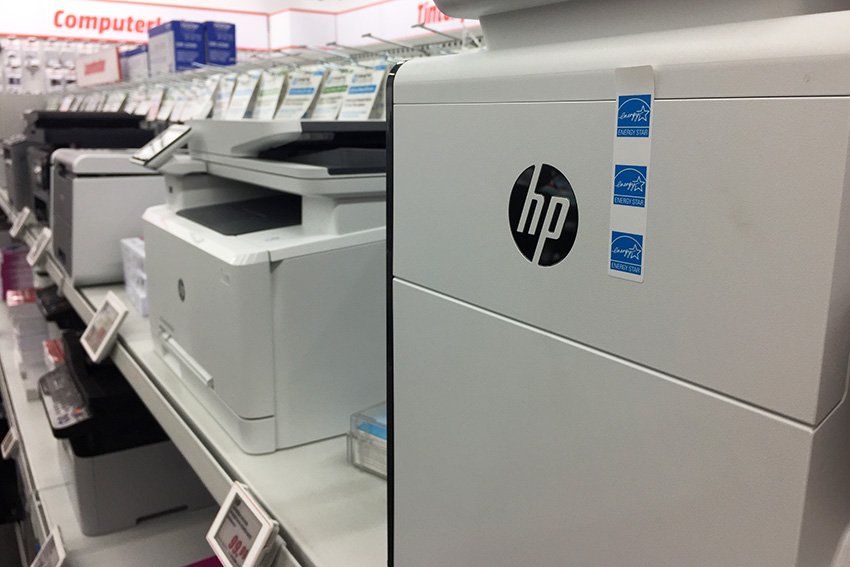 Facing a shaky long-term outlook for plastic exports, Sims Recycling Solutions has invested in plastics cleanup systems in the U.S. and the Netherlands.
The global e-scrap recycling and ITAD company in June will commission a plastics sorting system in La Vergne, Tenn., near Nashville. It has already installed and started using a similar system in Eindhoven, a city in the Netherlands. Each cost about $1 million, company officials told E-Scrap News.
The investments are part of Sims Recycling Solutions' (SRS) goal of recycling polymers from electronics while also increasing "stickiness" with OEMs, Ingrid Sinclair, global president of SRS, told investors during an event in Sydney in April. In this case, the OEM is longtime SRS partner HP.
"It's a way to keep that loop going and deepen our relationship," she said.
The plastic is being recycled into new HP printers.
"What's different in this process is that we're producing an engineered plastic," Sinclair told investors. "So rather than this plastic going into e-wood or flower pots – some of the lower tech – it's engineered so that this recycled plastic would go into the same fit-for-purpose as virgin plastic."
SRS is the e-scrap branch of global scrap metals giant Sims Metal Management, a publicly traded company based in Australia. At the investors event in April, company officials also highlighted SRS' move into decommissioning and recycling data centers.
'Writing on the wall' for plastics exports
China has long been a downstream market for e-plastics; however, several years ago, SRS began seeing signs there were problems shipping recovered e-plastics there, Sean Magann, SRS' global vice president of sales and marketing, told E-Scrap News.
First, it was China's Green Fence policy in 2013, followed by a customs crackdown in fall 2015 and finally the National Sword announcement in February 2017.
With precious metals, there's are always going to be overseas homes for the material because of its high value, he said. "But with plastics, because it's such a marginal – in terms of value – item, you can kind of see the writing on the wall that eventually someone is going to say, 'You know what, we don't want to take this stuff,'" Magann said.
Starting in 2018, China shook global recycling markets by curtailing imports of recyclables, including e-plastics. That sent more scrap materials to other Asian destinations, although a number of those countries are now clamping down on imports too.
In an interview with E-Scrap News, Jan-Hein Stiens, project manager plastics for SRS, noted that Vietnam is now closed to e-plastics. And while Malaysia is still open, SRS doesn't see it as a longer-term solution, he said. The issue is there isn't enough processing capacity in the region.
"That's the reason we, as the Sims Group, we have our sites globally. We want to have our own position and own solution to do something with the plastics in the right way," Stiens said. "That means 100% compliant and, if possible, with our customers."
From printers to printers
In partnership with HP, SRS conducted trials on the best way to process e-plastics streams to sort plastics for use in new HP products. SRS published a case study recapping the collaboration.
"The most economically viable solution was to collate material from HP returns and other sources, and process via mechanical shredding and separation," according to the case study.
In the second quarter of 2017, SRS installed and brought on-line its plastics processing system at the Eindhoven facility. The Tennessee system, which is slated to come on-line in June, is similar.
In a typical stream of plastics from end-of-life electronics and electrical appliances, at least half will be polymers desired for recycling: HIPS, ABS, ABS/PC, with smaller percentages of PP and PE, Stiens explained. SRS is using its sorting systems to create a higher-value pre-concentrate mix. The sorting systems include float-sink tanks, where some polymers float and others sink. The target plastic mix is then sent to compounders, which use other technologies, including electrostatic separation and fine density separation, to further sort the plastics into distinct polymers, he said. They then compound and extrude the plastics into pellets.
The e-plastics concentrate shipped out of SRS' La Vergne, Tenn. heads to, coincidentally, a Montreal plastics reclaimer called Lavergne. The plastics compounder provides recycled resins for use in HP products. Plastics Recycling Update, sister publication to E-Scrap News, reported earlier this month how PET bottles recovered in Haiti are being sorted and shipped to Lavergne for processing for eventual use in HP printer cartridges.
In the SRS-HP partnership, HIPS and ABS are being recycled into new printers, which carry a "Green Label" letting consumers know they have post-consumer recycled content, according to SRS' case study.
Photo credit: Cineberg/Shutterstock
More stories about e-plastics