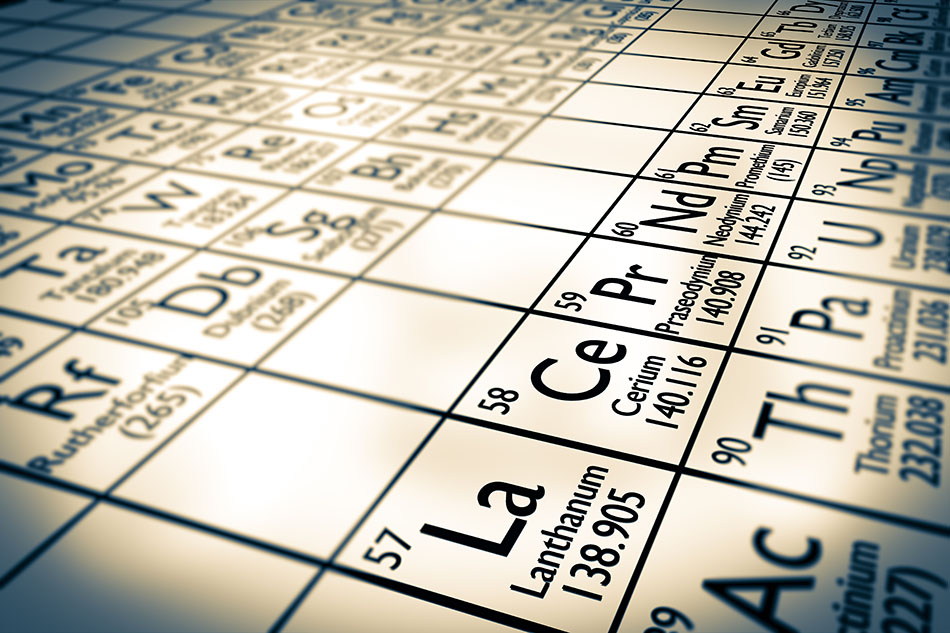 For two years, media outlets around the globe have covered China's National Sword recyclables import restrictions. Now, China is threatening to wield its trade sword for a different purpose: cutting off rare earth exports to the U.S.
In the context of its trade war with the U.S., China has hinted it may cut off the U.S. from its supply of rare earths, which are used in a variety of applications, including the production of electronics.
Such a move would drive up prices for the elements and could further stimulate interest in recovering them from scrap electronics. Government labs and private sector companies have already been working to develop and commercialize rare earths recycling technologies in recent years.
China is the world's largest producer of rare earths. The U.S. gets 80% of its rare earths from the Asian giant.
Threat to weaponize rare earths
A May 29 commentary piece in the People's Daily, the official newspaper of China's Communist Party, warns the U.S. not to wage a trade war with the country, noting its dependence on China for rare earths. The piece references the Trump Administration's actions to blacklist Chinese technology company Huawei, angering Chinese leaders.
The threat caught the attention of major media outlets, including Bloomberg, CNBC, CNN, NPR, and The Guardian.
The U.S. has only one operating rare earth mine of its own, Mountain Pass Materials (MP Materials), in the Southern California desert not far from the Nevada line. The mine is owned by two U.S. funds and a Chinese rare earth processor called Shenghe Resources Holding Company.
One of the world's largest producers of rare earths, MP Materials actually sends its semi-processed concentrate to China for further refining, although that concentrate is now subject to a 25% duty under China's retaliatory tariffs. CNBC reports the mine is working to produce its own separated rare earths by next year so it doesn't have to rely on China anymore.
More than a decade ago, China began imposing export quotas for rare earths. And in 2010, as part of a dispute over ownership of maritime territory and the detention of a fisherman, China was accused of prohibiting rare earth shipments to Japan.
Arguing for calm in the face of the latest threats, one expert, David Fickling, writing for Bloomberg, noted that China's past actions backfired in a number of ways. Prices for rare earths skyrocketed, leading to the development of supplies outside of China and reducing the percentage supplied by China around the world. And in a case brought on by the U.S., the World Trade Organization ruled against China's quotas (although Fickling argues it's safe to assume neither the U.S. nor China would be constrained too much by WTO rulings these days).
An article in The New York Times notes other chain reactions that may give China pause: Limiting exports would also harm China's other trading partners, because the global supply chain is so intertwined.
Recycling efforts continue
The Trump Administration has deemed rare earths and other metals are critical to the country's economic and national security.
For years, the U.S. government's Critical Materials Institute (CMI) and private sector players have explored strategies for recovering rare earths from electronics.
CMI researchers found a way to dissolve rare earths from shredded hard drives using an acid-free solution, and they developed an automated system for disassembling hard drives so rare earth elements can be recycled.
CMI is also working in partnership with the International Electronics Manufacturing Initiative (iNEMI) to recover powerful neodymium iron boron (NdFeB) magnets, used in hard disc drives and other products.
Recently, Cambridge, Ontario processor Greentec began trialing a robot to disassemble hard drives so their rare earth magnets can be recovered. And startups REEcycle, Urban Mining Co. and U.S. Rare Earths have worked to commercialize rare earth recycling technologies.
Photo credit: Antoine2K/Shutterstock
More stories about Asia