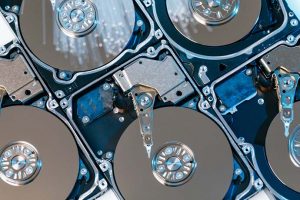 A Houston company's rare earth element recovery technologies could mean another future revenue stream for electronics processors.
Startup company REEcycle has developed a chemical recycling process that extracts neodymium and dysprosium from magnets, including those used in electronics.
As it works to refine that process, the company is also rolling out a mechanical system that quickly extracts magnets from hard drives before they're shredded. And company co-founder and CEO Casey McNeil said he hopes to have an early system operating in an electronics processing facility soon.
McNeil is also CEO of Vendera Mobile, a Houston company that provides mobile purchasing, management and recycling services for enterprises clients.
Rare earth recovery reactor
Licensed from the University of Houston, the technology used by REEcycle is capable of recovering rare earths from a variety of feedstocks, McNeil said. For example, the company looked at recovering rare earths from phosphors from fluorescent lamps, but the economic feasibility wasn't there.
Processing neodymium magnets makes the most sense from a business and societal standpoint, McNeil said, and one of the company's focuses is on computer hard drives.
During the company's process, the magnets, either with or without their nickel-copper-nickel plating stripped off, are crushed and put in a reactor, which operates at 212 degrees Fahrenheit. Then a solvent is introduced.
After four to five hours, the neodymium and dysprosium separate from iron and boron. While a small amount of acid is introduced at the beginning, it's digested in the reaction process.
"There's no other acids created. There's no other waste in the process, and we're left over with these very pure rare earth crystals," he said.
About 95 percent of the rare earths are recovered through the process, although REEcycle is still refining its processes and hopes to hit its sweet spot at 99.5 percent, McNeil said.
Magnet removal machine
Over the past three years, nearly $1.4 million has been awarded to support the technology, including substantial sums from the National Science Foundation (NSF) and the U.S. Department of Energy, McNeil said.
Funding from the NSF is helping to advance REEcycle's prototype system to quickly extract magnets from hard drives before they're shredded, McNeil said. The equipment disassembles drives to generate separate streams of magnets and aluminum components, he said.
REEcycle is hoping to get a system into an e-scrap processing facility within two to three months so it can prove itself. McNeil said their plan is that within a year, e-scrap facilities will have the opportunity to bring in a system that would be operated by REEcycle. Within two years, REEcycle plans to be providing systems to facilities for their own operation.
The technology could unlock a new revenue stream for facilities. REEcycle is currently paying $6 a pound for magnets, excluding weight from the attached magnet backing.
According to the Shanghai Metals Market, pure neodymium is currently selling for about $28 per pound and dysprosium for $106 per pound. Prices have been low recently, McNeil said, but they have been rising and are expected to continue rising naturally.
They could skyrocket if China, which currently supplies most of the world's rare earth elements, sharply curtails exports, as is did in 2011, when neodymium hit a peak of $227 a pound and dysprosium hit $635 a pound.
"One reasons we're doing what we're doing is we're trying to create a diversified, sustainable supply chain in case another 2011 happens," McNeil said.
More stories about metals