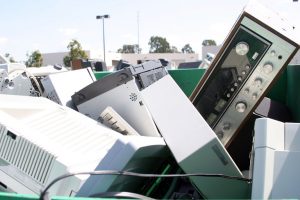 California's e-scrap program took a hit when ECS Refining closed in June 2018, but it was anything but a critical blow. Other local and national e-scrap companies took up the slack.
ECS was once a nationwide e-scrap processor offering a variety of services. The company provided corporate clients with ITAD services, and it processed much of the weight collected through West Coast extended producer responsibility programs.
The company filed for Chapter 11 bankruptcy in April 2018, and a judge approved its closure at the end of June.
The company's large role in state programs in the western U.S., particularly in California and Oregon, meant significant market shifts occurred after the shuttering. In Oregon, where ECS was the second largest processor, its closure meant significant additional volumes flowed to processor URT Solutions.
In California, which has America's oldest state e-scrap program, ECS was at one time taking in more pounds than any other processor participating in the program. And statistics compiled by the California Department of Resources Recycling and Recovery (CalRecycle) paint a picture of how the company's departure affected the program, which has already been witnessing declining overall weights and fewer processing players.
ECS leaves the scene
Under California's program, fees incurred by consumers buying new electronics are collected by state government. CalRecycle pays the money to collectors and processors when they recycle covered devices. CalRecycle currently pays 49 cents a pound for CRT devices and 60 cents a pound for covered non-CRT devices, including LCDs, laptops and tablets. Out of those amounts, 19 cents is paid to collectors.
A year ago, ECS processed more scrap electronics than any other single company participating in the state program. During the first quarter of 2018, ECS received an average of 1.6 million pounds each month of covered devices, nearly 18 percent of the program total. During that time, 18 processors submitted claims to CalRecycle for payments, although some handled very little material.
CalRecycle figures show ECS began to reduce its intake of state program material in May 2018, immediately after filing for bankruptcy. The company took in 1.1 million pounds that month, down one-third from April. By June, the same month a federal judge approved the company's closure, ECS took in a little over 400,000 pounds of e-scrap covered by the state program.
The graph below shows the decline in pounds processed by ECS in 2018 and how the other processors in the program took on more. (Note: Some August claims had yet to be received when the data was compiled.)

Picking up the slack
Ana-Maria Stoian-Chu, manager of the Electronic Waste Recycling Program, presented on California's program during the 2018 E-Scrap Conference last October. She was asked about impacts from the ECS closure.
"From a processing capacity perspective, we have other recyclers that can absorb the volume that went to ECS. Collectors are now switching towards other recyclers, so I think that's not an issue," Stoian-Chu said from the stage.
Data compiled by CalRecycle for E-Scrap News show just how that happened. Late last year, Andrew Hurst, supervisor of the Electronic Waste Recycling Program at CalRecycle, pulled numbers for collectors that had provided material to ECS and nearly a dozen other processors. The goal was to see what happened to material that would have otherwise gone to ECS.
The numbers show that after the closure of ECS, collectors that had done business with ECS boosted the weight they sent to ERI of Fresno, Calif.; EcoSpot Recycling of Gardena, Calif.; and Ruuhwa Dann and Associates (doing business as Cal Micro Recycling) of Ontario, Calif. In at least one case, they were publicly courted: At the end of July, ERI issued a press release aimed at former customers and collectors for ECS.
Additionally, collectors that used to serve ECS started supplying scrap electronics for the first time to California Electronic Asset Recovery (CEAR) of Mather, Calif. and Onsite Electronics Recycling of Stockton, Calif., both already active participants in the state program.
After the market shifts, some processors are now bigger players in the program (see table below).

Total pounds decline
Although other processors picked up much of the slack, the ECS closure did leave collection gaps, as Stoian-Chu noted at the conference.
"My concern is more with collection activities in rural areas, especially Northern California," she said. "ECS was covering very well those areas that are harder to reach for other recyclers and imply higher transportation costs."
CalRecycle data show dozens of collectors stopped handing covered material over to processors after June, indicating some material hasn't found a home yet. That being said, CalRecycle spokesman Mark Oldfield noted that the program sees a natural attrition, and some collectors only transfer pounds sporadically anyway. Additionally, he speculated that other processors are taking longer to review and accept loads out of an abundance of caution when taking on new customers.
Underlying all the shifts is the fact that California's program, like other mature state programs, is experiencing consistent drops in total collections. According to Stoian-Chu, the weight reached a recent peak of 212 million pounds in 2012. But it has fallen consistently since, coming in at 128 million pounds in 2017.
According to recent data compiled by CalRecycle, the first half of 2018 showed further decline: 52.4 million pounds, down 24 percent from the same period in 2017.
"There is definitely a downward trend," Hurst wrote in an email. "There are likely numerous factors contributing to this trend, with one being the decrease in the heavier CRT devices and increase in lighter non-CRT devices being claimed."
Stoian-Chu's presentation showed that non-CRT devices made up 14.3 percent of the weight in 2017, up from 1.6 percent five years earlier.
The program is also seeing a downward trend in collector and processor participation. In October, Stoian-Chu said the program had 26 approved recyclers and 390 collectors. That's a fraction of the numbers from 2009, when the program had 65 recyclers and 600 collectors.
As a result of changes in the end-of-life stream and markets, CalRecycle is considering wholesale changes to the program. Among them is a proposal to expand the list of covered devices.
Photo credit: mikeledray/Shutterstock
More stories about California