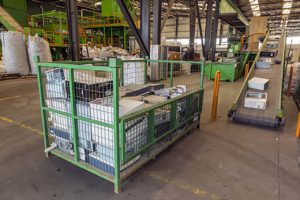 Processors handling non-CRT devices will be paid 60 cents a pound by the state of California, a 22 percent increase over their current payment rate.
Under California's 15-year-old e-scrap program, consumers pay an advanced recycling fee when they buy new electronics. State government collects the money and provides per-pound collection and processing payments to e-scrap companies handling covered devices.
To date, payment rates have been the same for CRT and non-CRT devices: 49 cents a pound. In response to a changing end-of-life stream, the California Department of Resources Recycling and Recovery (CalRecycle) in March approved paying different rates for CRT and non-CRT devices.
Moving forward, authorized companies will be paid 60 cents per pound to collect and recycle non-CRT devices, and they'll continue receiving 49 cents per pound for handling CRTs. The department described a multi-year process of evaluating markets and revenue in order to come up with the non-CRT rate.
On May 15, staff heard a final proposal for the per-pound payment rates, and CalRecycle Director Scott Smithline signed the proposal the following day. It takes effect July 1.
The rate split is a tangible indication of how the industry is adapting to an evolving stream. Seven years ago, non-CRT devices made up less than 1 percent of the weight of the e-scrap stream. But CRTs have since begun to decline as a portion of the stream: By 2015, non-CRT devices made up 5 percent of the stream, and by 2017 they grew to 14 percent.
This trend has a variety of impacts. Although CRTs have been a headache for many e-scrap operators because of the costs associated with recycling their leaded glass, their decline isn't all good news.
"Non-CRTs are more difficult to dismantle because they require longer processing times and they often have less intrinsic material value than CRTs," CalRecycle staff wrote. "In addition, they contain residuals that are fully regulated hazardous waste that entail high disposal costs (e.g., plasma panels) or that require special handling (e.g., fluorescent lamps)."
Additionally, the payments are weight-based, which adds to the difficulty because "recyclers are paid less for these devices although they are more costly to manage."
Photo credit: Arthur Mustafa/Shutterstock
More stories about California