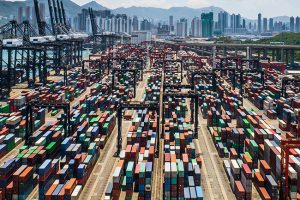 E-scrap exports to Hong Kong will require more due diligence beginning in January, when the semi-autonomous region implements new import and recycling permit requirements.
This analysis is based on official announcements and press releases from the the Hong Kong Environmental Protection Department (EPD), as well as insight from Brad Schmidt, compliance manager for Waukegan, Ill.-based ITAD and recycling company Arcoa.
Currently, some e-scrap is exempt from import permitting, but the official regulatory language is vague. The only e-scrap-related materials listed in the exempt list are "electrical assemblies consisting only of metals or alloys" and "electronic scrap (e.g. printed circuit boards, electronic components, wire, etc,) and reclaimed electronic components suitable for base and precious metal recovery," provided the materials are uncontaminated and imported for recycling, reuse or another form of recovery.
New regulations coming into effect at the end of the month clarify that TVs, computers, printers, scanners, monitors and certain white goods do not not fall within the above exemptions and therefore require an import permit, according to a guidance document from the EPD published in July.
Companies importing those devices without a permit will face a possible fine of 200,000 Hong Kong dollars ($25,500) for the first offense and an increasing fine for subsequent violations, according to an EPD press release.
Devices ready for reuse, which Hong Kong authorities refer to as second-hand electronics, are not subject to these waste regulations. Second-hand devices are primarily distinguished by having been tested or repaired. The EPD has published a document identifying the differences in these classifications.
As for what it all means for U.S. exporters, a major implication of the import permit change is a need for heightened due diligence by U.S. companies.
"As with any export or import, before they export they're going to have to make sure their Hong Kong buyer has an import permit when it's required," said Schmidt, whose company has shipped material to Hong Kong in the past.
In another regulatory change, new permitting requirements will take effect for companies processing e-scrap in Hong Kong. Under the regulations, a "waste disposal license" is required for any operation "engaged in the storage, treatment, reprocessing or recycling (but not repair)" of e-scrap.
This means that in addition to checking for import permits, U.S. companies will also likely need to ensure their downstream buyers have waste disposal licenses to legally handle e-scrap in Hong Kong. Otherwise, the U.S. exporter could be contributing to unlawful activity inside Hong Kong.
These regulations have been in the works for several years and are linked with a wider Hong Kong extended producer responsibility program. According to an official announcement, the EPD advised importers in April and September of this year to begin applying for import permits to get into compliance with the new rules.
Regulatory questions have long surrounded the process of exporting e-scrap to Hong Kong. Earlier this year Sustainable Electronics Recycling International (SERI) drafted a guide to Hong Kong import law.
Photo credit: Panksvatouny/Shutterstock
More stories about exports