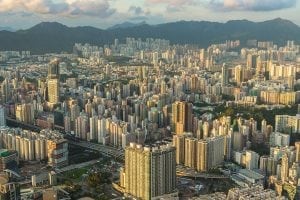 Electronics and appliance recycling requirements now in effect in Hong Kong are boosting the amount of material processed by Alba Integrated Waste Solutions.
Starting this month, Hong Kong retailers are required to offer a free take-back service for old electronics and appliances. They must notify the Hong Kong government which collection and recycling service provider they'll work with.
So far, most have chosen Alba IWS, according to the South China Morning Post. Alba IWS is contracted to run a publicly owned, technologically advanced e-scrap and white goods recycling facility in Hong Kong. A grand opening event for the plant, which has four lines and can process up to 30,000 metric tons per year, was held in March. The Hong Kong government pays Alba IWS $25.5 million (all dollars figures U.S. dollars) annually to run the facility, which cost about $74 million to build.
Nigel Mattravers, director and general manager of Alba IWS, will provide an update on the processor and Hong Kong e-scrap landscape during a session at the upcoming E-Scrap Conference, to be held in New Orleans Oct. 9-11.
Hong Kong's takeback requirements are part of a new extended producer responsibility (EPR) program in the semi-autonomous region of China. Covered devices include air conditioners, refrigerators, washing machines, TVs and monitors, computers, printers and scanners.
Under the EPR program, producers must register with the Hong Kong government and pay a fee ranging from $1.90 to $21 per item.
Even if consumers don't buy new items, they can contact Alba directly to have old items collected free of charge, according to The Standard newspaper.
While retailers must work with collectors and processors to offer a free recycling service, consumers don't have to use it. They can still sell old appliances or electronics to private door-to-door collectors. However, Hong Kong's secretary for the environment warned of possible environmental damage from doing so, South China Morning Post reported.
Photo credit: Lee Yiu Tung/Shutterstock

More stories about EPR/stewardship