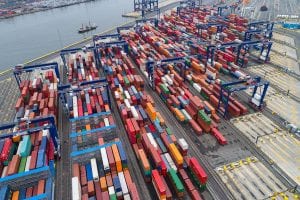 Federal regulators are considering a proposal to ban exports of unprocessed e-scrap and require stringent tracking procedures for exports that are still allowed.
The Bureau of Industry and Security (BIS), a division of the U.S. Department of Commerce, on Oct. 23 released a regulatory proposal that would alter requirements for e-scrap exports.
Under the rule, untested end-of-life electronic devices would be prohibited from export out of the U.S. The agency's reasoning is to limit counterfeit goods coming back into the U.S., and it references research that shows exported devices can contribute to counterfeiting.
The rule includes a number of exemptions. Devices that have been tested and are working, such as those that have been refurbished and are destined for reuse, could be shipped overseas. Materials recovered from e-scrap through processing, such as commodities destined for smelters, would also be allowed for export.
But for the exempt materials, BIS would require more stringent recordkeeping and tracking.
"There's no really good documentation on how much used e-scrap is exported," said Neil Peters-Michaud, CEO of Cascade Asset Management. His company is a steering member of the Coalition for American Electronics Recycling (CAER), which has pushed Congress to enact e-scrap export reform over the past several years.
There are tariff codes for certain materials, such as circuit boards, but not for used electronics as a whole. "So nobody knows how much is getting exported," Peters-Michaud said.
The proposal is considering a couple different methods to begin collecting comprehensive export data, including using a "license exception" authorization or adding a data element to the Automated Export System, which is used by U.S. exporters to declare international shipments.
BIS is seeking comments on the proposal by Dec. 24. Comments can be submitted through the federal government's regulations.gov website.
The U.S. EPA already regulates exports of CRT devices and CRT glass. The summer 2018 print edition of E-Scrap News had an in-depth story exploring how international law, domestic regulations and certification standards affect U.S. e-scrap exports.
Influenced by legislative work
Language used in the BIS regulatory proposal is very similar to the Secure E-Waste Export and Recycling Act (SEERA), or House of Representative 917, which was introduced in early 2017. Similar legislation failed to advance during previous sessions of Congress going back to 2013.
The BIS document actually references the legislative proposal as influencing its decision to seek these regulatory changes.
CAER, a coalition of more than 150 companies, pushed for H.R. 917 and supports the current BIS proposal. The Institute of Scrap Recycling Industries (ISRI) opposed SEERA, saying the counterfeiting issue had already been addressed by other federal legislation and noting the legislation wonuldn't address the primary source of counterfeit parts: unreliable operations in China.
In regards to the recent BIS proposal, ISRI again pointed to prior legislative work that has sought to address counterfeiting of electronic parts.
"We still go back to our old statement, which is still very current, that we're for free and fair trade," Billy Johnson, ISRI's chief lobbyist, said in an interview Thursday. "So we'll look at this through that lens."
He said ISRI has some concerns about the BIS regulation but noted the group is still evaluating it from various angles. The national security standpoint is a new element in the e-scrap discussion, he added, and that rationale sets it apart from prior legislative proposals.
"From the 100,000-foot level it seems that it's very similar, but the motivation is very different here," Johnson said. "We want to be respectful of that and try to figure out the best proposals for helping the national security side of it while respecting free and fair trade."
Johnson noted that electronic devices are manufactured outside the U.S., meaning counterfeit electronic components could come from any number of countries.
"The source of this material is everywhere, so just controlling it from here doesn't really fix your problem," he said. "It goes back to, if you really want to fix the problem, which is keeping bad chips out of critical infrastructure, look at the products you are using in the critical infrastructure and make sure that they work, test them."
ISRI plans to submit comments, Johnson said, and its electronics division is examining the proposal in greater depth.
'A lot further along' than past efforts
Peters-Michaud described the fact the proposed rules are out for public comment as "a huge step forward."
"One of the things this says is the administration is behind it, which definitely carries a lot of clout," he said.
The agency has been working on the proposal for some time, Peters-Michaud added, and he said the BIS and federal government would likely not invest that much time in the project without thinking there's a likelihood it would become real policy.
"This is a lot further along than the bills we've introduced over the years," Peters-Michaud said.
The CAER legislation has evolved a number of times since it was first proposed several years back. It initially took strictly an environmental protection angle but has shifted to take other points into account. The BIS proposal takes the angle of protecting national security through combatting imports of counterfeit electronics.
Through the BIS, the Department of Commerce "has the authority to regulate exports that pose a threat to national security," Peters-Michaud said. He pointed to a recent example of the federal government blocking U.S. sales to a Chinese tech company due to national security concerns.
"The easy and cheap export of unprocessed e-waste out of the U.S. is kind of easy pickings for other countries or commercial actors to harvest those chips and make money reselling them back as counterfeit products," Peters-Michaud said.
Photo credit: Sky Cinema/Shutterstock
More stories about regulation/oversight