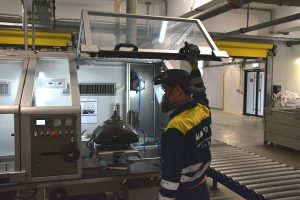 Readers last month were drawn to a variety of developments, including coverage of a new processing facility, a disposal settlement and metals recovery research.
The list below shows our top stories published in March in terms of unique page views.
1 | Stakeholders celebrate $74 million processing plant in Hong Kong
A large-scale, high-tech e-scrap recycling facility in Hong Kong recently held its official opening ceremony.
2 | Retailer fined millions for alleged improper disposal
The Home Depot will pay nearly $28 million in a California settlement involving disposal of e-scrap, batteries, household hazardous waste and intact customer information.
3 | Smelting alternative shows promising ROI
Federal researchers have examined an electricity-based processing method that could open doors to more cost-effective and environmentally friendly methods of metals recovery from electronics.
4 | Mixed financial results for Sims' e-scrap arm
The second half of 2017 saw e-scrap revenues rise for Sims Recycling Solutions, while profits fell due to European market pressures.
5 | Arrow reports on its processing volume
The e-scrap arm of Arrow Electronics handled nearly 6.3 million used devices last year, 44 percent of which were redeployed, sold or donated for reuse.