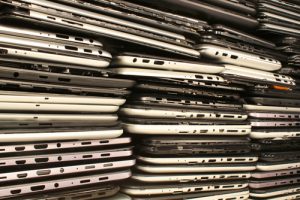 The e-scrap arm of Arrow Electronics handled nearly 6.3 million used devices last year, 44 percent of which were redeployed, sold or donated for reuse.
The publicly traded company, which had global sales of $28.6 billion in 2017, distributes electronics components and provides related services. It recently released its annual social responsibility and sustainability report, providing a few details about Arrow's IT asset disposition business. That division was previously known as Global Reverse Logistics but was relaunched in 2017 as Arrow Sustainable Technology Solutions.
In 2017, the company processed 6.28 million used devices and found reuse opportunities for 2.74 million of them.
"Arrow takes a 'reuse first' approach, which gives the best return on the energy and materials embedded in the assets we process," according to the report. "That reuse could take the form of assets being redeployed back into an organization, sold or donated. If the device cannot be reused, its usable parts are harvested."
The company has worked for more than a decade with Netherlands-based nonprofit group Close the Gap. Arrow Sustainable Technology Solutions refurbishes used assets, and Close the Gap provides them to schools, clinics and enterprise incubators in developing countries. According to the 2017 report, since 2003, 600,000 computers, storage devices, servers and mobile devices have been refurbished and donated to humanitarian causes through the partnership.
"More than 1.6 million people on four continents now have used the donated equipment for computer training, online learning and microenterprise management," according to the company.
In 2016, an Arrow executive wrote for E-Scrap News about the DigiTruck, a mobile computer lab working to bridge the digital divide in Tanzania. The partners collaborated to build the truck, which can operate off of power grids. According to the report, last year, the DigiTruck fleet expanded to six, including one serving slums in Nairobi, Kenya.
Arrow Sustainable Technology Solutions has six locations in the U.S., nine in Europe and one in Singapore.
Photo credit: Andrii Zhezhera/Shutterstock
More stories about processors