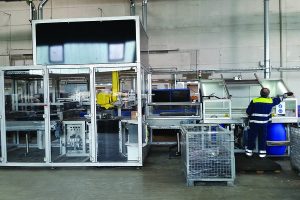 A large-scale, high-tech e-scrap recycling facility in Hong Kong will hold an official opening ceremony next week.
The 98,000-square-foot facility has multiple lines to process different types of scrap electronics and electrical appliances. It is designed to handle 30,000 metric tons of material per year, but with extra shifts can increase capacity to 57,000 metric tons.
The facility has four lines: One processing refrigerators, a second handling air conditioners, a third targeting computer products and washing machines and a fourth tackling CRT and LCD display devices. The Hong Kong government financed construction of the facility to the tune of $74 million. It was built for and will be operated by ALBA Integrated Waste Solutions Hong Kong (ALBA-IWS), a joint venture subsidiary of German waste management company ALBA Group.
In June 2017, Nigel Mattravers, director and general manager of ALBA-IWS, wrote an article for E-Scrap News magazine detailing the project.
According to Recycling International, the March 19 opening event will be attended by Carrie Lam, chief executive of Hong Kong; Wong Kam-sing, the Hong Kong government's secretary for the environment; and Axel Schweitzer, chairman of ALBA Group's board of directors. The South China Morning Post reports the facility has been operating since last year.
The facility comes on-line as the semi-autonomous area of China moves to implement an extended producer responsibility (EPR) system for electronics and electrical appliances.
More stories about Asia