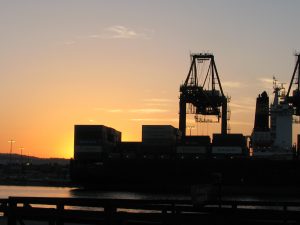 A recent decision by the Chinese government to more intensely inspect imported shipments of e-scrap and other recovered materials is here to stay, according to one international trade expert.
Steve Wong, the executive president of the China Scrap Plastics Association and the leader of Hong Kong-based plastics recycling company Fukutomi Company Limited, told E-Scrap News the Chinese government is committed "for the long term" to its beefed-up inspection measures.
"China wants to stop all imports of scrap material that might endanger the environment by polluting the air, water and soil," Wong said. "China will not satisfy the needs of the e-scrap industry at the expense of putting their 1.3 billion population at risk."
Citing Wong's insight, the Bureau of International Recycling recently reported e-scrap imports into China would never return to their prior levels.
Wong told E-Scrap News currently only baled TV and computer plastic with no contamination of metals and printed circuit boards is allowed to be imported into China. Used electronics are also banned from being imported and repaired and resold, he noted.
The customs activity appears to be part of China's National Sword initiative, which was started earlier this year as an effort to improve the quality of imported material into China. To date, the Chinese efforts have caused a significant stir among traders of a wide range of recovered commodities.
Companies that have relied on moving plastics from recovered electronics into China have noted lower prices tied to slowdowns at Chinese ports as inspections take place.
Adding more uncertainty to the situation is the fact that Chinese leaders have recently hinted that outright bans on certain imported materials could be implemented in the coming years.
Eyeing other Asian markets
For some exporters, material that once went to China may need to start heading to other countries.
According to Wong, e-scrap factories have closed across China, causing operations to move to Thailand, Malaysia and Vietnam.
Joe Pickard, chief economist at the Institute of Scrap Recycling Industries, said while China remains the largest market for U.S. scrap exports, "the industry continues to develop new markets overseas including in South and Southeast Asia, the Middle East and Latin America."
"While regional demand for the various scrap commodities varies considerably by region, when loads to China experience customs clearance problems, other regional destinations in Asia including Vietnam, Malaysia, Thailand, and Indonesia, among others, are frequent alternatives," Pickard said in a statement.
In related news, Hong Kong authorities recently fined four importers of what those authorities called "hazardous waste," according to a report by American Metal Markets (subscription required).
More stories about exports