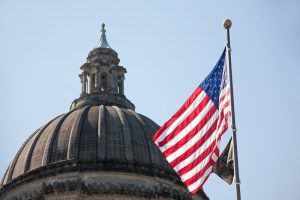 A bill advancing in the Washington state legislature blacklists e-scrap processors that twice violate state program rules. It also requires the disclosure of prices processors charge.
Those are a couple of the major provisions in House Bill 1824, which may be among the most significant proposed revamps of a state e-scrap program in the U.S. this year. It has already cleared the House of Representatives and is working its way through the Senate.
Under Washington's extended producer responsibility (EPR) program for electronics, E-Cycle Washington, a group called the Washington Materials Management and Financing Authority (WMMFA) plans and implements a statewide collection, transportation and recycling program on behalf of manufacturers. Funded by electronics manufacturers, WMMFA chooses which e-scrap companies to hire.
The state program includes TVs, monitors, computers, tablets and portable DVD players. Since it started in January 2009, it has collected a total of 337.4 million pounds.
Seattle-based advocacy group Basel Action Network (BAN) recently said the bill helps address problems it revealed with its e-Trash Transparency Project. That effort involved seeding electronics with GPS tracker units, dropping them off for recycling and following their trails. One-third of the time, the trail ended overseas.
As a result of the project, e-Stewards, a standard founded by BAN, rescinded certification for Seattle-based Total Reclaim, which handles more than half of the e-scrap volume under Washington's program. Last fall, the Washington Department of Ecology, which oversees E-Cycle Washington, fined Total Reclaim $444,000 for alleged downstream mishandling of exported material that was revealed by BAN. Total Reclaim is appealing the penalty, and a hearing at the state Pollution Control Hearings Board has been scheduled for June 26-27.
Substantial changes
The current version of HB 1824 makes several notable changes to the state program, including the following:
Prohibits WMMFA from hiring an e-scrap processor for three years if the processor has been twice penalized by the Department of Ecology. This blacklisting would apply if the company has previously been penalized by the Department of Ecology and, after July 1, 2017, the department again determines the same company has willfully violated an environmentally sound performance standard, program registration requirement or hazardous waste management law.
Requires WMMFA to disclose prices it is paying each processor and transporter, as well as the product volume allocations for each of them. It also requires WMMFA to provide a description of its procurement process and its methodology for allocating pounds to processors. Ecology would be charged with ensuring processing is cost-effective and environmentally sound.
Requires the Department of Ecology to periodically audit collectors, transporters and processors.
Requires the heads of the departments of ecology and commerce to attend at least three WMMFA board meetings a year. Those officials are non-voting members of the board.
Jim Puckett, executive director of BAN, which supports the bill, described the three-year-ban as a "two strikes, you're out" provision.
"That's to put a little teeth into things and to let people know that they're going to be penalized if something happens like this again," Puckett said.
The bill had to be amended to usher it through the House, he noted. For example, it originally tasked the Department of Ecology with deploying its own trackers, but that provision was removed because of the costs it added for state government.
The legislation passed the House on March 1 in a vote of 55-43. It is now in front of the Senate's Energy, Environment and Telecommunications Committee. Puckett said he expected passage to be more difficult in the Senate, where Republicans hold a slight majority.
BAN's support of bill
Electronics manufacturers and BAN have lined up on opposite sides of the bill. At hearings, representatives from Mukilteo, Wash.-based e-scrap company Ace Metal joined Puckett in speaking in favor of the bill. Expressing opposition to it were John Friedrick, WMMFA executive director; Charlie Brown, a lobbyist working on behalf of the Consumer Technology Association (CTA); and Craig Lorch, co-owner of Total Reclaim.
BAN issued a press release March 7 explaining its support for the bill. In an interview, Puckett said the bill provides for needed transparency and oversight. The fear is that Total Reclaim won so much volume because it was exporting material, allowing it to undercut competitors in pricing, he said.
"It's completely in a black box," he said. "We want to put some sunlight on that and have (Friedrick) justify how those decisions are made."
Opposition to bill
Friedrick did not return a request from E-Scrap News for comment. A testimony document prepared by nonpartisan legislative staff summarized opponents' concerns, however. Among those was a worry that the state wouldn't have enough processing capacity if the one large processor that violated program standards is removed from the program.
They said E-Cycle Washington needs to use all qualified vendors around the state to shorten supply chains and ensure local availability of processing capacity. They also objected to the airing of program business.
"The WMMFA was intended to operate more like a private business than like a public agency, and it should not be required to post all of the program's business information publicly," according to the document.
In an interview, Lorch told E-Scrap News the bill changed since he testified on it, and he hasn't fully formed his opinions on the current iteration. That being said, the provisions regarding pricing disclosures "would throw a wild card" into the program, he said.
The EPR program was created with the idea that manufacturers would internalize costs, use a stewardship group to engage in private relationships with service providers and employ their sophistication to reduce costs to an acceptable level, he said. He described HB 1824 as shifting it toward a government-procurement model, where bids are publicly disclosed and the agency generally must select the lowest price. Whether that's good or bad for the program, he didn't know.
He noted WMMFA might be willing to pay more to use a smaller processor for various reasons, including their geographic niche. He questioned whether the bill would limit that flexibility.
An annual report submitted by WMMFA showed electronics manufacturers spent a total of $11.7 million for E-Cycle Washington in 2015, or about 26 cents a pound.
'Nothing to lose'
One outspoken bill supporter is Ace Metal, which has two locations in the northern suburbs of Seattle. Ace Metal handles roughly 3 million to 5 million pounds of electronics per year. In 2015, it handled about 8 percent of the volume coming through E-Cycle Washington.
"We're at the point where we believe so strongly in increasing transparency that we're willing to speak out," Josh Estes, interim general manager for Ace Metal, told E-Scrap News.
Ace Metal has tried to lower its rates to become more competitive while still charging what is needed to responsibly process material, Estes said. The response has been that its rates are still too high and won't win it much material.
"Our biggest frustration is the largest abuser was Total Reclaim, which has maintained and still maintains no less than 51 percent of the volume," he said. "We'd like to secure more volume and we didn't violate the law."
His company has been accused of simply wanting to boost its volumes, he said, but he insisted it's about a transparent and fair system. "In fact, changing this law does nothing to guarantee any processor increases their volumes," he said.
WMMFA board meeting minutes show that as far back as at least 2012 Ace Metal owner James Yoo was complaining that volumes that his company and other minority-owned processors were receiving were unfair, given the demographics of the county where he's located. He asked the board to establish a committee of stakeholders from communities where E-Cycle Washington operates to provide input on operations and volume distribution.
In an interview with E-Scrap News, Yoo said he sees himself as standing up for the little guys. Yoo emigrated from Korea to the U.S. at age 18 because of the Korean War, and he studied history and government in college here.
"I'm not worried about retaliation," he said. "I'm 76 years old and got nothing to lose. It's on the principle."