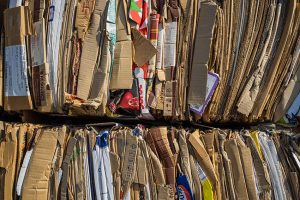 U.S. recovered paper and plastic exports each grew slightly in April, hitting their largest monthly volumes so far in 2019.
The U.S. Census Bureau this month released figures charting exports of recovered paper and plastic in April. Resource Recycling previously analyzed figures for the first quarter of the year.
China drives increase; Indonesia policy impact
On the paper side, exporters shipped 1.65 million short tons out of the U.S., up from 1.62 million short tons in March. The growth was driven in part by China increasing fiber imports from the U.S. by about 37,000 short tons.
The largest importers of U.S. recovered fiber were China (538,000 short tons), India (341,000), Mexico (138,000), Vietnam (119,000), Canada (97,000), South Korea (95,000), Taiwan (69,000), Thailand (67,000), Indonesia (53,000) and Italy (20,000).
OCC made up 58% of U.S. recovered fiber exports and mixed paper made up 13%.
China, still the most important overseas market for U.S. scrap paper, in April imported its largest volume so far this year. By grade, 67% of the country's inbound U.S. fiber was OCC.
The April figures also hint at the effect that policy change announcements can have, even before the policy takes effect. Indonesia in late March announced new scrap paper import policies that would heavily restrict the volume of inbound paper into the country.
The policy changes were set to take effect April 1, but after recovered fiber stakeholders expressed strong concern about the policy, it was postponed. Last week, the government announced the policy would be less stringent.
But that early period of uncertainty seems to have caused a significant drop-off in exports. In March, U.S. companies sent 143,000 short tons of scrap paper to Indonesia; in April, that fell by 63% to 53,000 short tons.
(Story continues below chart.)
Slight recovered plastic growth
Meanwhile, U.S. exporters shipped 141 million pounds of scrap plastic out of the country in April. U.S. traders exported 122 million pounds of recovered plastics in January, and each month that number has grown.
Still, the April exports were nearly half their volume from a year ago, when the U.S. shipped out 263 million pounds of scrap plastic.
By country, the top importers of U.S. scrap plastic in April 2019 were Canada (29 million pounds), India (25 million), Hong Kong (15 million), South Korea (10 million), Malaysia (9 million), Indonesia (8 million), Mexico (7 million), Taiwan (7 million), Turkey (6 million) and Senegal (4 million).
The top importing countries list has changed dramatically over the past year as the result of import policy changes. Besides China's disappearance from the list, Vietnam and Thailand, the largest Southeast Asian importing countries in early 2018, also no longer appear. Malaysia, which grew to be the top importer of U.S. scrap plastic in 2018, is now well below other large importers such as India and Canada.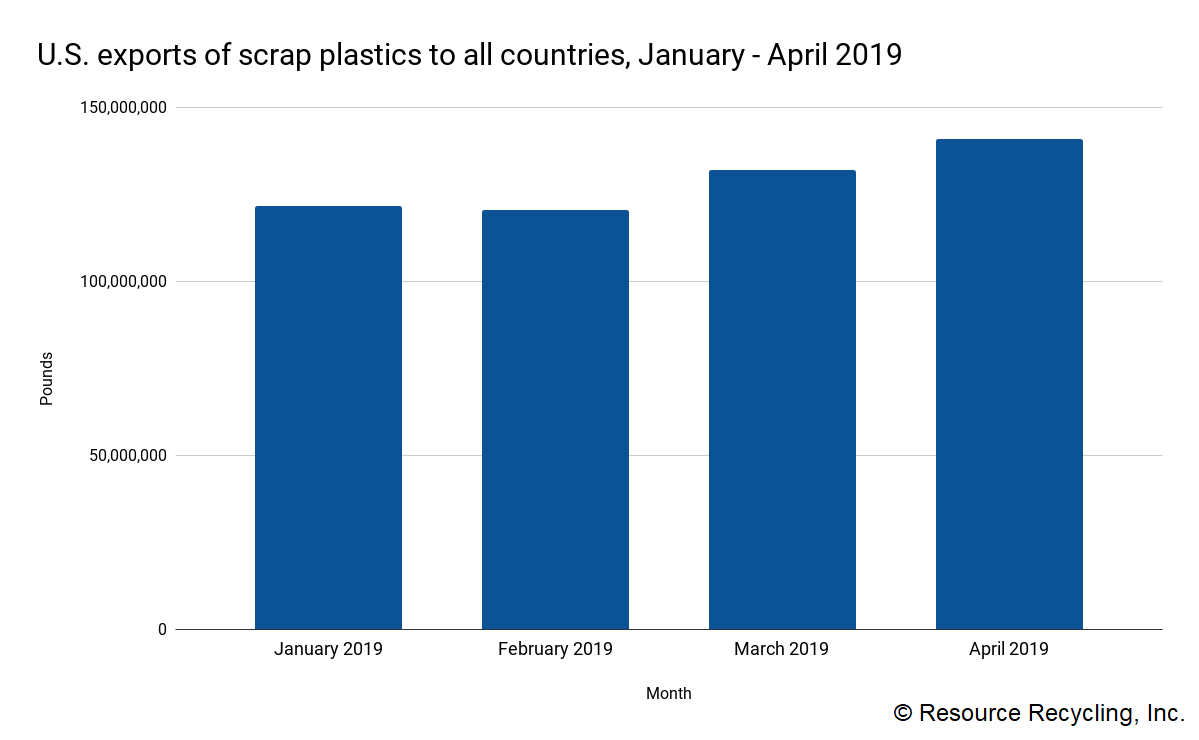 Photo credit: richardnazaretyan/Shutterstock
More stories about markets