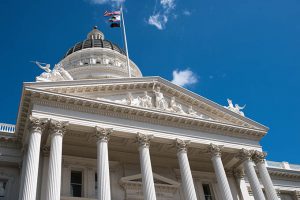 This story has been corrected.
Some recycling stakeholders have argued for more source separation to bolster material quality. Now, a lawmaker in the country's largest state is joining the call.
California Assembly Member Cecilia Aguiar-Curry last week introduced Assembly Bill 815, which offers communities incentive to adopt dual-stream collections.
Under California law, municipalities are required to make efforts to implement source reduction and recycling initiatives to achieve 50 percent diversion. The bill changes the law so communities that adopt dual-stream recycling are automatically compliant with the requirement. The bill defines dual-stream as a program in which, at minimum, paper and containers are separated at the source.
Aguiar-Curry is a Democrat who represents wine country and parts of the Sacramento Valley. It's unclear if the proposal has significant legislative traction. The bill received a first reading on Feb. 20 and was referred to committee, where it could be evaluated in late March.
Over the past two decades, many programs have adopted single-stream collection to improve efficiency and create a simpler paradigm for residents. Transitioning to dual-stream would require many communities to make major changes in terms of routing, truck design and more.
However, backers of dual-stream efforts note the improvement in material quality would be worth the effort.
The Glass Packaging Institute (GPI) quickly voiced strong support for the bill, which the organization called "milestone legislation." In a statement, GPI Executive Director Joe Cattaneo said the legislation "signals a growing national interest in separation of recyclables at the curb, in recognition that dual-stream recycling is superior in recovering recyclable materials from California households."
Several communities across North America have reverted from single- to dual-stream during the past year, spurring industry-wide discussion of whether such a change is feasible on a wider scale. The discussion has been spurred by a recycling markets environment increasingly defined by higher quality demands among material buyers. China's move last year to ban some recyclables imports and impose tougher contamination limits on others has had global repercussions.
The recycling market shift has had substantial fallout in California, where a sizable portion of recyclables were previously exported to China.
The market downturn was previously noted at the legislative level. State lawmakers last year approved a bill requiring the California Department of Resources Recycling and Recovery (CalRecycle) to take market conditions into account when enforcing the diversion requirements. Local programs had expressed concern they would be penalized for failing to meet diversion goals even if there were no feasible markets to move material.
Then-Gov. Jerry Brown vetoed the bill, saying it was unnecessary because existing statutes and regulations already required CalRecycle to consider market conditions when evaluating a jurisdiction's compliance with diversion mandates.
This story has been corrected to make clear that former California Gov. Jerry Brown vetoed the bill requiring state regulators to take market conditions into account when enforcing diversion mandates. Previously, the article erroneously indicated the bill had been signed into law. 
Photo credit: Brandon Bourdages/Shutterstock
More stories about legislation