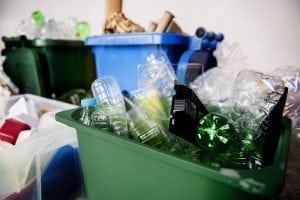 In the midst of a recycling market downturn, a growing number of small municipal programs across North America are moving away from single-stream at the curb.
Some program officials point to dual-stream collection as a solution to market woes brought on by the disappearance of Chinese companies as downstream buyers. Given the market shift, they say, program changes are necessary to create a clean product that can be marketed to alternative buyers. In other cases, a return to dual-stream is not directly tied to China, but the market downturn has helped programs explain the benefits of the approach.
At this point, program changes are not involving construction of new dual-stream facilities. Communities are making their shifts on the collection side and leveraging existing processing infrastructure.
Resource Recycling spoke with program officials and reviewed government documents to learn why some programs are making the switch and how the change is playing out with their customer base.
Canadians quantify financial savings
A mid-sized county in central Ontario will shift to a dual-stream program beginning in September 2019. Officials in Northumberland County cite the global recycling market downturn as a key factor behind the switch.
As a result of China's import restrictions, "domestic markets are becoming saturated and that is driving down the price of recyclable materials," officials wrote in a report to the county council.
"In order to be able to achieve the higher quality standards for baled recyclables that will likely become the normal in the very near future, we will need to be proactive in ensuring that our recycling stream (from road-side set-out to our finished bales) is as clean as possible," county staff wrote.
Currently, the county spends about 2.43 million Canadian dollars ($1.85 million) per year on waste and recycling collection. Under the new system, the county anticipates recyclables collection costs will increase by CA$500,000. But the county will realize an estimated CA$500,000 savings in lower processing costs and higher recyclables revenue, as well as CA$350,000 in additional cost avoidance through landfill capacity savings because less material will be disposed, according to the estimate.
The dual-stream switch, alone, would have a net savings effect. But the county is also adding an organics collection service that will increase costs by CA$1.25 million per year.
Resource Recycling previously profiled the Northumberland County MRF in a "MRF of the Month" feature.
Northumberland is the largest of several recent Canadian recycling programs that have reverted to dual-stream. Population 30,000, Cumberland County, Nova Scotia, recently made the switch. The county explained that "market conditions are dictating that we need a cleaner product which can only be achieved with dual stream recycling."
North Glengarry, Ontario officials recently voted to switch back to dual-stream beginning in January 2019. The municipality's contracted MRF had been selling its low-grade material to China, and it is now having to perform increased sorting in order to move that material domestically. The additional sorting caused delays and backlogs at the MRF, and the local government anticipates switching to dual-stream will ease the backlog by having residents perform some of the sorting.
Prepare for the backlash
In Sonoma County, Calif., one community recently made the dual-stream shift but not directly as a result of China's restrictions.
The town of Windsor, Calif. switched to a dual-stream collection program in October 2017, after years of single-stream. The switch was tied to a change in hauler, as the private company Sonoma County Resource Recovery (SCRR) was awarded a 10-year contract for collection service.
Once the new carts were rolled out during the fall, the backlash took off.
"It was almost immediate," recalled Justin Wilcock, SCRR's business development and community outreach manager. "It was very vocal, primarily on social media."
Residents began airing frustrations with the new system on the town's Facebook page and local discussion groups. There was unhappiness about residents being required to sort, as well as heavy criticism of SCRR's use of a cart with a divider down the middle that creates two compartments. Some residents, frustrated with the space constraints created by the split, took to cutting out the center divider, creating a de facto single-stream cart again.
By early November, SCRR decided to hold a town hall event and broadcast it over social media, explaining some of the benefits of a dual-stream system. Later, SCRR produced a video explaining the change, describing dual-stream, and noting the Chinese import restrictions and how they've impacted the U.S. recycling market.
The program had a bit of a rocky start, in part due to a delay in the arrival of dual-stream trucks. SCRR had to rent single-stream collection trucks, meaning the program has had to treat the loads like single-stream materials, despite the new collection bins. This week, SCRR is holding an official launch event and is rolling out the new dual-stream trucks beginning next week.
"Nine months into it, there's still mixed feelings, but there definitely is support for it and for the change," Wilcock said.
A frequent complaint has been a lack of cart space for OCC. But Wilcock noted some of the challenges with cardboard are present whether a program is dual- or single-stream, because of e-commerce and the Amazon effect.
"I think that cardboard is a growing issue or problem for any curbside collection program, because our volume has just skyrocketed," Wilcock said. "It's a new phenomenon that we're dealing with, as far as curbside collection of all this cardboard."
SCRR and the town government have tried to address that problem by providing additional cardboard recycling options, including drop-off bins and additional fiber-only carts for an extra fee.
Wilcock advises that communities making the dual-stream switch clearly explain why the change is happening. An explanation of how the system works can be equally valuable. For example, the dual-stream trucks can appear to be taking all the material into one chute, but inside there is a system that keeps the two streams separate. To assuage public concerns, SCRR prepared a video that shows how the trucks operate.
Windsor's loads are taken to a nearby dual-stream MRF operated by Marin Sanitary Service. This week, another hauler in the region announced it will try reverting to dual-stream as a pilot program for several communities. It will also send its material to the Marin Sanitary facility.
Economic reversal spurs change
A change in recycling economics convinced a small Florida community to change course after a decade with a single-stream system.
Lake Worth, Fla. is located in Palm Beach County and has been contracting with Waste Management for single-stream service since 2008. The community of about 38,000 has some 12,500 single-family residences and another 4,500 multi-family units.
The Solid Waste Authority of Palm Beach County, a public agency, is tasked with collecting waste and recycling in all unincorporated parts of the county. The agency also operates MRFs receiving residential recyclables collected within the county. It processes roughly 90,000 tons of recyclables annually, according to Willie Puz, director of public affairs and recycling for the agency.
The authority first began operating under a dual-stream model in the late 1980s, and is currently among the largest dual-stream programs in the country. About a decade ago, Lake Worth opted to contract with Waste Management and go to a single-stream design. The dual-stream program wasn't providing any revenue at the time, whereas the single-stream contract stipulated Waste Management would pay the city $10 per ton for recyclables.
"As the city collected somewhere in the range of 2,200-2,600 tons of recyclables per year, that revenue seemed to be a good choice," Puz said.
Since then, commodity markets have tumbled. As Resource Recycling recently reported, Waste Management is currently paying to move 65 percent of its recycling output. When the Waste Management contract with Lake Worth came up this year, it included a significant change. Rather than getting paid $10 per ton, the city would need to pay the hauler $85 per ton for collected material under the single-stream program.
"The difference from receiving $10/ton to paying $85/ton to WM is not financially feasible," the city's public services department wrote in a report to city officials. "The alternative is to return to dual stream recycling."
In April and May, both the solid waste authority and the city approved a contract that brings Lake Worth back into the county's dual-stream program. Under the terms of the agreement, the city and solid waste agency will each receive a share of recycling revenues for a period of time, until various costs associated with the switch have been paid off. The switch is anticipated to cost about $220,000 for recycling bins.
After costs are recouped, the city will receive all recycling revenues from collected material.
Lake Worth will re-launch dual-stream collection on Oct. 1. The city and solid waste authority are beginning an outreach campaign this month.
Hauler makes commercial shift
FirstStar Recycling, which serves residential and commercial customers in Nebraska, switched to a dual-stream service for its commercial clients as of June 1. The company cited a ripple effect from China's restrictions.
"While we have not been as dependent on Chinese markets, the dual effects of greatly reduced market demand and a heightened sensitivity to contamination have also affected domestic markets," the company wrote, noting the impact has hit the commercial single-stream sector the hardest.
"Hence, due to historically low commodity prices and the need to meet increasingly higher standards for cleaner material, we will now be moving to a dual-stream system where loads will be sorted at source," FirstStar wrote on its website.
The company laid out several benefits it anticipates, including higher-quality and higher-value products, less recyclable material getting disposed of as residue, and lower processing costs.
FirstStar has held the contract to process the city of Omaha's residential stream since 2004. All told, the company markets nearly 100,000 tons of recyclables collected throughout the Midwest each year, according to its website.
Photo credit: Rawpixel.com/Shutterstock
More stories about local programs