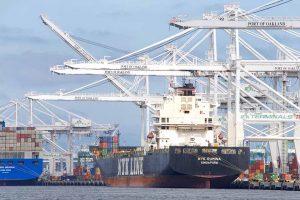 The leader of California's recycling agency recently weighed in on China's import restrictions, addressing concerns he's heard from local government and industry representatives.
In a May 8 letter, Scott Smithline, director of the California Department of Resources Recycling and Recovery (CalRecycle), touched on how the market downturn has impacted the Golden State's ambitious diversion requirements. He also offered tips on operating without markets and described the long-term need for domestic end users.
"The exporting of recyclable commodities to China, primarily our traditional curbside materials, has historically been a key component of California's recycling infrastructure," Smithline wrote.
But China's move to scale back imports represents "a signal that California can no longer be primarily reliant on exports to manage our recyclable materials," he added.
Smithline's comments came shortly after China took its latest major step in curtailing imports: The country on May 3 suspended pre-shipment inspection company CCIC North America from operating for a month, and it began inspecting every load of scrap material destined for import into China.
Besides facing economic pressure from a lack of end markets, local governments also have regulatory pressure to meet certain recycling targets, including goals set by Assembly Bill 939. The legislation, also known as the California Integrated Waste Management Act, requires that local governments make efforts to reach 50 percent diversion. Smithline assured local governments that CalRecycle considers the impact of markets when determining whether they have made diversion efforts in line with state law.
"I have heard many stakeholders express concerns that CalRecycle will not take market factors – e.g., the precipitous drop in ability to get collected materials to market at an adequate price or even at all – into consideration when we evaluate jurisdiction programs," Smithline wrote. "Jurisdictions are concerned that this could lead to potential penalties for situations that jurisdictions cannot control. This is not what statute dictates."
He addressed a reality many recycling programs and companies are currently facing: Without a downstream outlet for prevalent recyclables, companies in California and elsewhere have been forced to stockpile materials in hopes of market changes. Smithline noted operators can apply for temporary waivers to increase the volume and duration of storage.
Smithline also offered a handful of specific storage tips for companies forced to stockpile. The goal, he noted, is to maximize public health and safety. He advised practices aimed at reducing fire hazard, as well as preventing bales from coming into contact with stormwater.
Finally, the letter floated a few opportunities to improve the domestic recycling landscape and reduce dependence on exports. Smithline pointed to business development grants for recycling operations (see related story) and recycled content procurement requirements. He also hinted at policy changes, such as the state's ongoing mandatory packaging policy process (which was recently postponed due to the Chinese import changes), noting that the state must "reassess product design, materials collection and processing systems."
CalRecycle will hold a workshop on June 4 to further discuss China and the evolving market.
Photo credit: Sheila Fitzgerald/Shutterstock
More stories about California