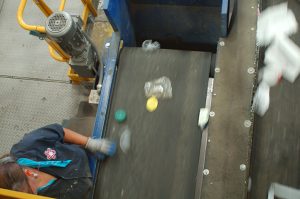 Recycling revenues fell last year for one major hauler, hampered by China's import restrictions and low fiber prices. Meanwhile, the company opened what it calls a next-generation MRF in Texas.
Republic Services is the second largest residential garbage and recycling company in North America, after Waste Management. The hauler's recent release of 2018 financial results – and executives' latest conference call with investors – provide a look at how the first year of China's import restrictions affected the Phoenix-headquartered company.
Republic brought in $298 million in recycling-related revenue in 2018, down nearly 5 percent from the 2017 number. In the fourth quarter, recycling revenue was $78 million, down 11 percent year over year, according to the pro forma sheet. (Note: In 2018, Republic started accounting for recycling rebates paid to customers as a reduction in recycling revenue. In prior years, those payments were listed as a cost of goods sold. The percentage change figures above are from a pro forma document that adjusted 2017 numbers so they reflect the new accounting standard, allowing for an apples-to-apples, year-over-year comparison.)
In 2018, the average price Republic fetched for OCC in 2018 was $97 a ton, compared with $159 a ton in 2017. For old newspapers (ONP), it was $59 a ton, down from $100 a ton the year before, according to the company's financial filings. Excluding glass and organics, the company received an average commodity price of $106 per ton in the fourth quarter, down 15 percent year over year.
In 2018, Republic sold 5.1 million tons of recyclables, about three-quarters of which was OCC, ONP or mixed paper. The company is no longer sending recyclables to China and is instead sending material to alternative markets.
Recycling funding shifts
Republic and other large haulers have been working to shift municipal customers onto contracts that reduce contamination and commodity price risk for the company.
During a Feb. 7 conference call with investors, Donald Slager, president and CEO of Republic Services, said the company continued to manage recycling operating costs and increase recycling volumes and fees in the fourth quarter. Looking forward, the company plans to continue transitioning municipal recycling customers to a more durable, fee-based pricing model and educating consumers on proper recycling via its Recycling Simplified outreach campaign.
According to a call transcript from Seeking Alpha, when asked about Republic protecting itself from commodity price changes, Slager said the company needs to be paid appropriately for collection and sorting. Communities must bear the burden of contamination, but they should also be able to enjoy the benefits of commodity values, he said.
He put the company's 1,100 municipal contracts into roughly three categories: Communities that immediately agreed to new contract terms, those that flat-out refused, and those considering changes.
"I think, frankly, any operator would have to be – I'm trying to think of a nice word – an idiot to sign up for recycling the old way when we've got this big, global, macro thing in front of us," Slager said.
This isn't the first time Slager has discussed new recycling fees and contract shifts. He talked extensively about them last fall, when third-quarter financials were released.
Republic's future MRF
On the Feb. 7 call, Slager said Republic last year opened its "first next-gen recycling processing center" in Plano, Texas. Instead of MRFs that remove items that are not recyclable, the facility uses state-of-the-art technology to extract items that are recyclable, he said.
"This positive sort configuration allows us to produce a higher quality product with less labor," he said. Slager indicated the facility does not incorporate robots, but he said Republic is currently testing robotics.
As of the end of the year, the company operated 91 MRFs. More than half of the tons handled last year moved through company MRFs, and the rest were collected by Republic and delivered to third-party facilities.
In 2018, recycling made up about 3 percent of the company's revenue. Total company revenue last year was over $10 billion, up 4 percent, excluding the impact of the new revenue-recognition standard.
Photo credit: Resource Recycling file photo
More stories about markets