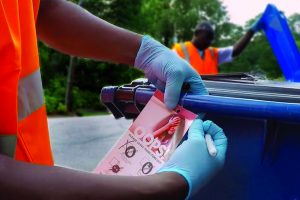 Developments in how local programs are responding to tough markets drew readers' interest last month, along with research on the environmental impacts of packaging and the announcement of a brand owner-funded grant program.
The list below shows our top stories published in December in terms of unique page views.
1 | Contamination fines gain steam around U.S.
As the need for a cleaner stream becomes clear, haulers and local programs are taking steps to reduce contamination. Some enforcement tactics are proving unpopular among the public.
2 | Study: Recyclable packaging not always greenest option
Oregon's environmental agency has released research that suggests several popular packaging attributes – including "recyclable" and "recycled content" – do not consistently result in lower-impact products.
3 | Coca-Cola puts $500,000 into regional recycling system
A major brand owner will help provide funding for carts, MRF upgrades, collection vehicles and other core projects to expand materials recovery in the Southeast.
4 | MRFs install equipment to weather the storm
In different corners of the country, recycling facility operators have recently upgraded their lines as markets shift and the material stream continues to evolve.
5 | Recyclables continue to see stable prices
Markets for many curbside recyclables were relatively steady in December, with paper and plastic grades maintaining their values early in the month.
Photo credit: The Recycling Partnership