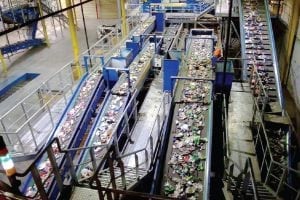 Readers last month were drawn to stories about recycling facility openings and closures, as well as several fiber-related articles.
The list below shows our top stories published in September in terms of unique page views.
1 | Maryland plastics sortation plant will not reopen
An idled plastics recovery facility is being dismantled and its components sold, after efforts to reopen it for the past year have not panned out.
2 | Chinese company to open S.C. recycling facility
A Chinese investment firm is planning a $75 million recycling plant to process scrap plastics, electronics and other materials.
3 | Contaminated OCC cited in felony case
A New York recycling company executive has pleaded guilty to felony charges connected to a dispute over contamination in recycling loads collected from a commercial client.
4 | OCC levels out after chaotic price swings
OCC prices have remained stable for several months now, bringing some calm to what has been a wildly fluctuating market. But a supply glut may be preventing prices from climbing back up.
5 | U.S. recycled pulp mill purchased by paper giant
Nine Dragons will purchase its first U.S. recycled paper mill just a couple months after entering the U.S. market with its acquisition of virgin fiber facilities. The company offered details in an interview.