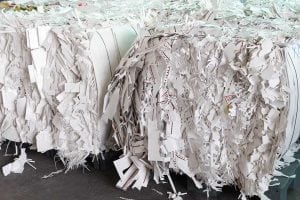 Nine Dragons will purchase its first U.S. recycled paper mill just a couple months after entering the U.S. market with its acquisition of virgin fiber facilities. The company offered details in an interview.
The largest paper company in China announced Aug. 30 that it will purchase a Fairmont, W.Va. recycled paper mill from Resolute Forest Products. The mill produces air-dried recycled pulp and has a capacity of 240,000 short tons per year.
The product from the Fairmont mill is a bleached pulp, said Brian Boland, vice president of government affairs and corporate initiatives for ND Paper, Nine Dragons' U.S. subsidiary. Feedstock is sourced from sorted office paper, newsprint and other grades, and some of the material comes from recycling programs in the region.
"The end uses into which the pulp is sold are anything from printing and writing papers to tissue products," Boland said.
Financial filings show that the Fairmont mill produced about 152,000 short tons of pulp in 2017, meaning it was running at 63 percent utilization. Boland noted that Nine Dragons is looking to ramp up production, although he noted it's too early to announce any specific plans on that front.
"The mill has a lot of potential," he said.
Feedstock supply
The latest development comes shortly after Nine Dragons purchased two virgin pulp mills from Catalyst Paper via an acquisition that was the Chinese company's first in the U.S.
The company's push into the U.S. follows more than a year of tumult in global recycling markets in the wake of China's National Sword policy. During that time, the flow of scrap paper to China has diminished heavily. Nine Dragons operates nine Asian mills, eight of them in China, and the company has been challenged to secure recovered fiber feedstock. Several of its Chinese mills have been forced to take downtime over the summer because they've been starved for input material.
Industry experts have predicted Chinese companies will make U.S. investments to provide a stable flow of feedstock into China. 
"It certainly factors in, but I believe there's a lot of reasons for Nine Dragons to get some foothold in the U.S.," Boland said.
The Fairmont mill has an existing customer base for its output pulp, and it's not clear whether those relationships will be altered with the sale. However, Boland said some of the pulp will definitely be sent to China for use in the company's paper manufacturing operations.
Trade war backdrop
The idea of sending recycled pulp from the U.S. to China has gained steam in recent months as a way to continue supplying Chinese buyers by circumventing scrap material restrictions. However, the Chinese government recently proposed a 20 percent tariff on imports of pulp made from recycled paper.
"It's definitely something that we're watching," Boland said.
But that tariff possibility, and the wider trade disruptions in general, were not major factors in Nine Dragons' decision to invest in the U.S. Boland explained that the investment horizon for Nine Dragons is much longer than a company under private equity or distressed debt ownership.
"We take a very long view of investment," he said. "We want to run these mills for generations."
The tariffs could be a relatively short-term blip, he added, but even if the trade war were to last several years, it's not on the generational scale Nine Dragons is looking at.
"Long-term, this is a really good decision," Boland said.
Nine Dragons and Resolute Forest Products are still working out the details of the sale, and Boland said the goal is to close the deal within two months. The sale announcement from Aug. 30 notes that the closing is subject to various conditions and approvals.
Photo credit: oBebee/Shutterstock
More stories about fiber