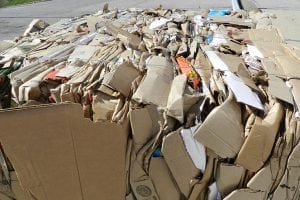 OCC prices have remained stable for several months now, bringing some calm to what has been a wildly fluctuating market. But a supply glut may be preventing prices from climbing back up.
Although the price for domestic old corrugated containers (OCC) is currently trading for less than half its near-record value in 2017, given the current market challenges across all recyclable commodities, OCC remains a critical component of the stream.
"You get it, you can move it," said Laurie Johnson, executive director of the Colorado Association for Recycling (CAFR).
Johnson said two key hurdles – transportation costs and a lack of end markets – are still hammering the recycling industry on multiple commodities. Amid those challenges, consistently lower prices for OCC have to be seen "relative to what's happening in the market," she said.
In other words, although OCC prices are down, other commodities are down much further. As a prime example, mixed paper prices have dropped into the negatives in recent months – one MRF operator recently described paying $56 per ton to move mixed paper just a few months ago.
"At least I can get money for cardboard," Johnson said, echoing the sentiment of suppliers looking to move recyclable commodities. OCC's status as a positive-value item amid the market downturn is part of what led CAFR to push for an OCC landfill ban in Colorado Springs, the second most-populous city in the state. That effort is ongoing.
It's a similar story with the OCC market in the Northeast, where the material is trading for $70 to $75 per ton, according to fiber research firm RISI.
"It's not where we'd like it to be, but it's there," said Marie Kruzan of the Association of New Jersey Recyclers.
OCC makes up the largest portion of fiber in the commercial recycling stream and is the second most prevalent grade, after mixed paper, in municipal recycling programs.
Stability despite increasing demand
OCC pricing impacts vary greatly by program and region. In some municipal programs, for example, price fluctuations might not have an immediate impact because of contract provisions. And geographically, the Pacific Northwest is seeing significantly lower prices on the RISI index than the Southeast.
The Pacific Northwest has more reliance on export markets than other regions, said Bill Moore of recovered paper consultancy Moore & Associates, and the Southeast is very much a domestic market. A tight freight market may also be playing into the price differences.
Although the stability is a welcome change, prices remain low compared to the recent past. Two years ago, the national average hovered around $100 per ton; a year ago, it was up to $150 a ton, before a drop to the high-$90-per-ton range. Now the national average is between $67 and $72 per ton, according to RISI.
Still, Moore noted that current domestic OCC prices are only slightly below the trend line going back further than two years.
The current pricing reality was predicted by several major OCC buyers in recent earnings reports. Allan Hogg, chief financial officer for Cascades, said the company doesn't expect to see any upward movement on OCC pricing for the rest of the year.
During those earnings reports, paper company executives pointed to ongoing restrictions in OCC export markets and the growing trade war between the U.S. and China as factors that will keep OCC prices relatively low in the near future.
But Moore said it's somewhat perplexing why OCC hasn't risen in recent months given strong demand that is only expected to increase. Many market analyst firms have predicted global containerboard market expansion in the coming years, driven in part by the rise of e-commerce.
That demand increase, which raises demand for OCC to produce the containerboard, has not been enough to offset the OCC market strife over the past year.
"I can only point to some excess [OCC] supply coming onto the market," Moore said, describing the growing practice by MRFs of separating out more OCC from the fiber stream to reduce mixed-paper volumes.
Domestic OCC supply had already increased in conjunction with the Chinese import restrictions. And the additional OCC being sorted out in MRFs tends to be lower-quality material. Suppliers are, therefore, producing more OCC with less quality, both of which can hold prices down.
But moving forward, all signs point to prices eventually creeping back up, driven by the steadily growing containerboard industry.
"I think the global demand on OCC is clearly up," Moore said.
End users seem to agree: Moore pointed to a slew of recent announcements of mills starting to produce containerboard from OCC. International Paper, for instance, recently converted a newsprint machine at its mill in Madrid to produce containerboard. That facility, Moore said, will consume 2,500 tons of OCC per day and is "really a megashot" in the global OCC demand equation.
Photo credit: Vladimir Martinov/Shutterstock
More stories about fiber