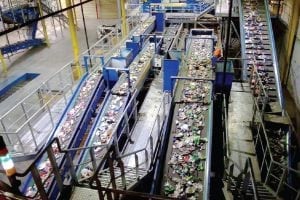 An idled plastics recovery facility is being dismantled and its components sold, after efforts to reopen it for the past year have not panned out.
The former joint-venture QRS Recycling plant in Dundalk, Md. suspended operations in August 2017. Operators of the facility, which accepted mixed-plastic bales and separated them into individual resin and color streams, have since been working to bring the plant back on-line with a new investment partner.
But more a year after the plant was idled, those efforts have been scrapped.
"After a multitude of discussions with a multitude of various parties to try to keep the operation running in place, we were unable to structure a transaction with anybody," said Jonathan Sloan, president of Canusa Hershman Recycling, in an interview with Resource Recycling.
Without an investor, the 128,000-square-foot Baltimore-area facility has closed permanently and some of its equipment is being parted out for sale.
"Unfortunately, we were not able to find a buyer to run it in place," Sloan said, noting that the company is disappointed to not be able to serve the mixed-plastics market any longer. The decision was made within the past 30 days, he said.
The entire bottle sorting system has been sold to be repurposed for a residential recyclables processing operation, Sloan said. It is currently being dismantled. The fate of the wash line is not yet certain.
Innovative model
Canusa Hershman and partner QRS Recycling opened the Maryland plant in 2015, siting it to serve regional MRFs and reclaimers. The facility included a bottle sort system and wash line, and it would bring in mixed plastic bales from MRFs for further sorting. That made it one of the few U.S. outlets for mixed plastics Nos. 3-7.
The facility was one of the first industry efforts to receive financial support from the Closed Loop Fund, a group backed by consumer-products giants and other companies that works to bolster U.S. recycling through corporate financing. The group provided a $2 million loan for the QRS plant.
But less than two years after opening, the facility publicly indicated it was experiencing obstacles. In August 2017, QRS and Canusa Hershman said they would idle the plant to "enable an optimization of the equipment." They also announced they were looking at several proposals that would bring new technology into the facility, and that could lead to a joint-venture or acquisition of the facility.
That announcement also stated that the "fundamentals of the post-consumer plastic resin business are currently challenged." At the 2018 Plastics Recycling Conference, Greg Janson of QRS pointed to declining oil prices, which spurred virgin plastic production, as a prime factor in the challenges mixed plastics processors have faced.
Shortly after the idling, Closed Loop Fund officials stated that such challenges were expected when the facility launched, and that the plant could serve as a pilot project for development of the wider domestic industry in the future.
Lack of interest despite market downturn
Post-consumer mixed plastics processing capacity has been slow to develop in the U.S. Breaking mixed-plastic bales down to separate out specific resins is either a labor-intensive process, or it requires expensive equipment to replace human sorters. And with China as a reliable buyer for years, the incentive for domestic investments was not as pressing.
After China virtually ceased mixed plastic imports this year, many industry experts have predicted that domestic plastic processing infrastructure will increase. That has taken shape in the form of several Chinese-backed processing plants that have been announced in recent months.
But for the Maryland plant, although several parties expressed interest – and at least one major company submitted a letter of intent to acquire the facility – in the end none of the deals came through.
"Our preference clearly would have been to maintain the facility intact and have somebody run it," Sloan said, "but unfortunately, we couldn't find somebody to take on that role."
Photo credit: Resource Recycling file photo.
More stories about plastics