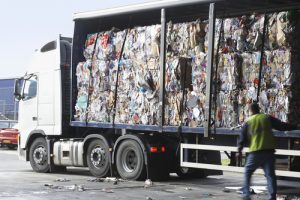 China's ban on imports continued to draw readers' interest last month, along with stories about Walmart and shifts in measuring recycling success.
The list below shows our top stories published in September in terms of unique page views.
1 | Roundup of the latest developments on China's ban
Chinese importers enter their fourth month without renewed import quotas, and ISRI says meeting a 0.3 percent contamination limit is impossible.
2 | Walmart underpaid millions in California deposits
The world's largest retailer underreported the number of containers it distributed over a three-year period in California, leading to $7.2 million in unpaid deposits to the state. The balance was paid in full late last year after it was revealed during an audit.
3 | Experts offer look at evolving world of recycling data
Similar to the material stream itself, the industry is undergoing a shift – one in which basic diversion rates no longer suffice to tell the story about program effectiveness.
4 | In My Opinion: Opportunities amid the uncertainty
China's push to curb imports of many materials could strengthen local programs and force policymakers to finally confront the needs of domestic markets.
5 | Global roundup: Exports stall as Chinese mills scramble
One report indicates that buyers in China are desperately seeking domestic sources of recovered paper. Meanwhile, low-value plastics are flooding the European market, but processors there have limited ability to handle those loads.