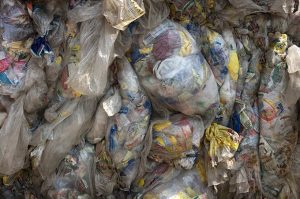 One report indicates that buyers in China are desperately seeking domestic sources of recovered paper. Meanwhile, low-value plastics are flooding the European market, but processors there have limited ability to handle those loads.
The following is rundown of the latest headlines tied to China's proposal to prohibit some categories of recovered materials.
Domestic demand: With imports into the country diminishing, Chinese mills are scrambling to find alternate sources of recovered paper. Industry publication RISI writes that the freeze on new import permits, along with ramped up inspections aimed at environmental protection, has "sent prices for both domestic (recovered paper) and finished products shooting through the roof."
Introspection:  The import restrictions have led exporting countries to consider the state of their own domestic recovery infrastructure, and some are not finding a positive picture. An opinion piece in the South China Morning Post describes a sub-par collection and processing infrastructure in Hong Kong, and calls for a government-led policy of recycling investment to drive domestic recovery. The authors note optical sorters and robots as possible targets for such investment.
Demonstration: Also in Hong Kong, exporters of recovered paper went on strike this month to protest China's restriction of imports into the country. The South China Morning Post reports the exporters complained that Chinese importers have not received new permits allowing material to flow into the country, leaving stockpiles of fiber material at Hong Kong collection sites. The striking exporters urged authorities to voice their concerns to Chinese officials.
Plastic piles up: Similar to the Hong Kong paper situation, low-quality plastics formerly bound for China are flooding the European market due to the policy changes, and domestic processors are unable to absorb the material due to its low quality. Plastics Recyclers Europe writes that the new situation demands quality increases among European recycling companies, and that the "abrupt change in the market conditions demonstrates the urgency needed to implement a real and sustainable waste market in Europe."
Expert advice: China's looming policy changes are expected to have ripple impacts all the way back to U.S. curbside recycling programs, and some recycling organizations are taking steps to inform their members of the possible effects. The New Mexico Recycling Coalition recently wrote a letter to its base, identifying the key steps companies and municipalities should take to ensure they can find end markets for materials.
Warning: Industry organizations continue to warn of the likely impacts the ban will bring, and to seek further clarification from Chinese authorities. The National Waste & Recycling Association on Sept. 26 announced its official position on the ban, noting its support for China improving environmental protection but cautioning that the ban as currently understood would at least affect commodity prices, and at worst result in recyclables being landfilled.