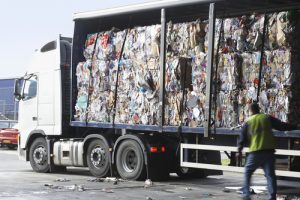 Chinese importers enter their fourth month without renewed import quotas, and ISRI says meeting a 0.3 percent contamination limit is impossible.

Paper crackdown: Chinese importers have not received renewed permits allowing additional imports for more than three months. According to paper market publication RISI, importers are not confident they'll receive new permits any time soon. Sources told the publication Chinese authorities are continuing to step up inspections at the border, particularly on recovered paper shipments. Mills also told RISI they predict import allowances will be reduced next year and that the process for approval will become more rigorous.
Survival advice: Although the policy change will bring challenges for recycling companies and municipal programs, The Recycling Partnership says the impact can be reduced if all players follow some key steps. Essentially, the organization advises parties to take the opportunity to ensure their stream is as clean as it can be. The Recycling Partnership suggests municipal programs keep in touch with their MRFs, ensuring both parties understand which materials are contaminating the stream. With that information, municipal programs can work with the public to cut down on contaminants, thus creating the highest-value recyclables.
Feedback on specifics: The Institute of Scrap Recycling Industries (ISRI) has responded to new details about the materials that will be allowed into China. In an Aug. 25 letter to Chinese officials, ISRI described language in new regulations that would limit allowable contaminant levels to 0.3 percent or less. That restriction, ISRI said, "will effectively result in a ban on the importation of all these commodities. It is simply not possible to achieve such a control level, nor is it possible to even measure it with such accuracy." For reference, under ISRI's published scrap specifications, paper shipments are generally allowed with between 1 percent and 5 percent contamination.
Precise wording: ISRI also addressed a concern that's come up several times during China's increased focus on import regulations. In separate remarks to the World Trade Organization, ISRI called on Chinese officials to differentiate scrap materials from waste. WIthout that delineation, valuable materials are lumped in with garbage in import discussions, according to ISRI.
SWANA chimes in: The Solid Waste Association of North America (SWANA) has submitted comments to the World Trade Organization about the Chinese imports ban. In its comments, the industry association says suddenly cutting off China as a downstream outlet will lead to many recyclables being burned or disposed of in landfills. SWANA, which is made up principally of city, county and regional solid waste leaders, asks Chinese officials to consider a measured implementation, noting that "a clearly defined five year phase out of material subject to the (ban) would allow sufficient time for the global marketplace to adjust to China's policy."