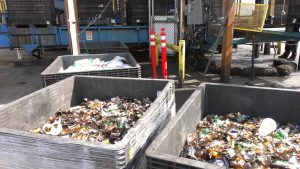 An article exploring the impacts of glass at materials recovery facilities and a couple of pieces looking at China's imports crackdown were among the headlines that drew our readers' interest.
The list below shows our top stories last month in terms of unique page views.
1 | Glass is costing MRFs $150 million annually
A comprehensive industry study has put a dollar amount on what U.S. materials recovery facilities and their municipal partners are spending to move recovered glass downstream.
2 | Waste Management builds trash-sorting MRF near Oakland
An organics-focused operation in California estimated to cost more than $120 million will extract recoverable material from municipal solid waste. But it's not aimed at replacing curbside recycling and compost collection.
3 | China's Sword effort continues to rattle market
Chinese customs authorities are inspecting every container entering the country at certain ports, causing longer shipping times. And some observers say the enforcement efforts could also be driving down recovered paper prices.
4 | Chinese reform committee considers restricting imports
China may be gearing up to further crack down on waste materials coming into the country, which could impact scrap imports.
5 | Fine issued in dispute over trashed multi-family recyclables
A nationwide multi-family garbage and recycling collection company has been fined by a state for allegedly tossing recyclables in the trash.