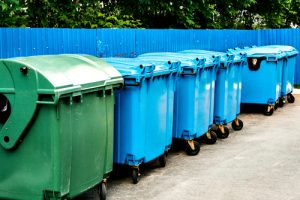 A nationwide multi-family garbage and recycling collection company has been fined by a state for allegedly tossing recyclables in the trash.
The Oregon Department of Environmental Quality (DEQ) on March 2 fined Valet Waste $13,500 for allegedly mixing source-separated recyclable materials and garbage at an apartment complex in Portland, Ore. Such a move is a violation of state law.
Valet Waste, a Tampa, Fla.-based company that provides doorstep recycling and garbage collection service, appealed and requested a hearing.
The root of the problem may actually go back to heavy contamination in the multifamily recycling stream, a not-uncommon problem across the country.
In a November 2016 news report, Portland TV station KOIN 6 pointed to evidence Valet Waste staff had been throwing away recyclables. Valet Waste disputed the news report's accuracy, saying the report contained heavily edited footage showing video of its employees throwing away bags of what were heavily contaminated recyclables.
According to Valet Waste, company staff were throwing away contaminated recycling because the local processor had been rejecting loads to recyclables due of contamination. In response, Valet Waste associates began inspecting blue bags and throwing out those that would have likely been rejected, the company said.
DEQ fine
In levying the fine, DEQ alleges the company threw recyclables into a trash compactor during at least five instance in 2016 and 2017. The practice continued even after the department sent a pre-enforcement notice to Valet Waste in December 2016, according to DEQ.
In addition to the penalty, state regulators demanded a report from the company listing its customers in Oregon, its employee training manual covering collection, documentation showing employees reviewed the training manual, correspondence with local governments about the training manual and more.
"As a nationwide provider of doorstep recycling and garbage collection, respondent has the scale and sophistication necessary to understand the laws in each jurisdiction in which it operates," according to the DEQ.
According to the March 22 appeal document, obtained by Resource Recycling via a public records request, Valet Waste suggested that its staff may not be at fault. Apartment residents have access to the receptacles at all times and can improperly dispose of recyclables, the company noted. Additionally, property management maintenance staff can throw recyclables away when responding to hauler complaints of contaminated recycling streams.
"There are various ways that blue bags can end up in the waste stream, under which we have no control," according to request for a hearing. "We respectfully request any documentation for the accountability or standard we were held to, so that we can verify that it was indeed a Valet Waste associate."