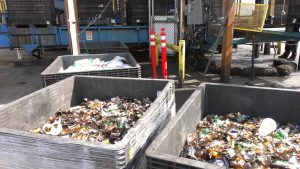 A comprehensive industry study has put a dollar amount on what U.S. materials recovery facilities and their municipal partners are spending to move recovered glass downstream.
An annual net cost of $150 million for management of glass collected in single-stream collection systems was identified in a report released today by the nonprofit Closed Loop Foundation, which is associated with the Closed Loop Fund.
The statistic helps highlight a major theme of the report itself: that significant industry-wide efforts are needed on the glass front to help ensure the viability of processing facilities and programs.
"The solution is not just a better cleanup system," said Closed Loop Foundation's Ellen Martin in an interview. "It's a bigger system story."
Sparked by Big Apple conversation
Martin said the notion of an in-depth investigation into the costs and other issues associated with glass recycling grew out of a stakeholder meeting convened by officials in New York City last summer. Martin said the city was looking at its own costs and trying to determine how to make glass recovery work economically.
In the wake of those discussions, the Closed Loop Foundation began looking at the issue deeper. The Foundation exists as a separate 501(c)(3) from the Closed Loop Fund but works closely with the corporate-backed industry group to develop relevant market research and economic impact studies.
The Foundation received a grant from beer company Heineken USA to better understand the specific financial pinch points seen in glass recycling today and to offer some recommendations on how to help the industry move forward.
The resulting report outlines concrete steps that can be taken throughout the glass recycling chain to help more glass move into markets instead of disposal.
But to frame the conversation, the research needed to quantify the scale of the problem, and that's what led to the $150 million cost figure.
Martin said researchers looked at U.S. EPA data on glass generation and recovery as well as what typical costs were for U.S. MRFs to handle the material (the study relied on input from around 20 facilities of different sizes nationwide, according to Martin).
The analysis finds that a typical MRF taking in single-stream material is seeing glass costs of $35 per ton. This number accounts for costs to maintain relevant equipment, transportation to send material downstream and tip fees when glass is disposed of (it also factored in the reality that those tip fees may be lower when glass is used as alternative daily cover at the receiving landfill).
At $35 per ton, a MRF that handles 15,000 tons of glass a year will see annual glass costs of around $500,000. Researchers used those numbers to come to the $150 million nationwide cost.
Imploring cities to continue glass collection
Given the expenses associated with glass, it's little surprise that a number of local programs have moved recently to pull the material out of their collection systems. The Closed Loop study, however, advises against taking that action.
"If the trend continues, the system will recover less and less of the glass generated each year, despite the fact that manufacturers can save significant costs and energy using recycled glass," the report states. "All stakeholders – from municipalities and MRFs to processors, manufacturers, and brand owners – need a more efficient and cost-effective solution to handle single-stream glass."
Much of the Closed Loop Foundation analysis digs into how to develop that efficiency, identifying sorting practices and equipment approaches that can help lead to higher quality material and reduced overall costs.
The report notes that for mid- to large-sized facilities (those handling over 10,000 tons of glass annually), an upgraded glass processing system that could lead to meaningful improvements would cost between $350,000 and $1 million. That investment, researchers estimate, could reduce glass handling costs by up to $25 per ton, in large part because the MRF would garner higher prices from secondary processors or manufacturers.
According to the Closed Loop Foundation, investment in such cleanup systems would make economic sense for at least 50 MRFs nationwide. Those facilities were deemed as plausible candidates because they handle a sufficient amount of material and are sited close enough to downstream buyers.
The report states that if the recommended processing improvements were implemented at those MRFs, the nation's supply of recycled glass would grow by 33 percent, or 1 million tons a year.
Would demand exist for all that extra recycled glass? According to Martin, there is plenty of interest from industry players.
"In talking with manufacturers, there was enthusiasm," she said. "They told us, 'We would absolutely take more if we can get it to the right specification.' So what we are seeing is a literal bottleneck at the MRF level."
At the 2017 Resource Recycling Conference, Ellen Martin will be presenting additional details from the glass recovery research and other Closed Loop Foundation projects.