U.S. scrap plastic exports continued a precipitous year-over-year decline moving into the second half of the year, with several large destinations substantially reducing imports.
The U.S. exported 288.3 million pounds of scrap plastic during the third quarter. That's down from 379.8 million pounds during the same period in 2020. It's also below the 2019 and 2018 weights, continuing an overall downward trend.
The third-quarter 2021 decrease was driven by a few large importers bringing in significantly less material. Plastic exports to Malaysia dropped from 75.6 million pounds in the third quarter of 2020 to 30.4 million pounds during that period this year. Exports to Vietnam dropped by almost half, from 32.5 million pounds to 17.1 million pounds.
The largest importers of U.S. scrap plastic in the third quarter of 2021 were Canada (90.7 million pounds), Mexico (50.2 million), Malaysia (30.4 million), India (26.3 million), Vietnam (17.1 million), Indonesia (14.4 million), El Salvador (9.4 million), Germany (9.0 million), Latvia (5.0 million) and Thailand (4.3 million).
Outside of the top export destinations for scrap plastic, many of the smaller importers brought in less material as well. All combined countries outside of the top 10 importers brought in 31.4 million pounds, down from 83.2 million pounds during the same period in 2020.
A number of factors have contributed to lower scrap plastic exports of late. After China's import restrictions began slowing exports in 2017, other nations received substantially more material than they had in the past, leading to their own import restrictions. Then, beginning this year, the Basel Convention began regulating scrap plastic shipments globally. The U.S. is not a party to the convention, a fact that has made it more difficult for U.S. exporters to trade the material with Basel-party countries.
The U.S. trade data only reflects shipments that are properly identified in shipping paperwork, and industry stakeholders have previously alleged that some exporters improperly label shipments to get around trade restrictions.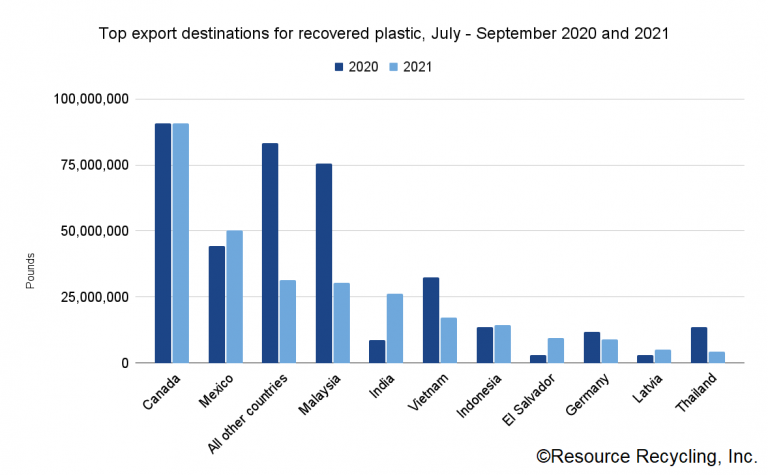 More stories about exports