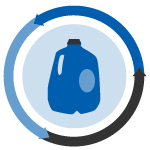 Three major manufacturers announce they'll use PET, PP and acetate produced via chemical recycling processes, and Procter & Gamble begins putting digital barcodes on bottles to aid in sorting. 
Enzyme deal: Carbios, which uses enzymes to depolymerize challenging streams of scrap PET, entered a joint development agreement with a company to produce its proprietary enzyme. In a Jan. 30 press release, the French company announced it signed an exclusive partnership deal with Novozymes. "Many years ago we envisioned the great potential of enzymes to bring PET-based plastics and fibers into the circular economy," Jean-Claude Lumaret, CEO of Carbios, stated in the release. "Following a first partnership on PLA biodegradation with Novozymes that began in January 2019, today's agreement on PET recycling reinforces our collaboration."
Buyer for chemically recycled PP: Plastics News reports label company Avery Dennison will use chemically recycled PP supplied by Saudi Basic Industries Corp. (SABIC). The pilot project to use the BOPP in label film will take place this year. Avery Dennison is one of a handful of manufacturers to announce they'll use chemically recycled plastics from SABIC. Others include Berry Global, Tupperware, Unilever and Vinventions. To create the plastic, a pyrolysis process from U.K. company Plastic Energy is used on mixed plastics to produce what's the company calls TACOIL. The TACOIL is refined before Sabic processes it into new plastics at its Geleen, Netherlands production site.
Recycled-content label: In other recycled-content label news, labels company UPM Raflatac unveiled a PE label film made with 30% PCR and a minimum 55% post-industrial plastic. In addition to containing recycled resin, the PE PCR White TC 85 label material is recyclable in standard plastics recycling streams, according to Packaging Europe. 
Rolling out invisible barcodes: Global brand owner Procter & Gamble (P&G) will use digital watermarks in laundry care product bottles in Europe. Plastics News reported from the 2020 PetCore Conferences in Brussels, where P&G's Gian de Belder noted the company will begin using digital watermarks in its Lenore and Unstoppables brand containers in Germany this year. The news comes after the conclusion of the Holy Grail project, which worked to advance the use of invisible markers in containers to aid in plastics sorting. Holy Grail 2.0 has since kicked off, driven by digital barcode technology company Digimarc, which is supplying the barcode technology to P&G for its laundry care products.
Chemically recycled PET: In other P&G news, the company has committed to trialing the use of chemically recycled PET in its European Pantene hair care bottles. According to a press release, Indorama Ventures, the world's largest virgin PET producer, will supply the RPET for use in clear bottles Pantene bottles first. The RPET is produced from a depolymerization process. 
Gasification of acetate scrap: Eastman Chemical will use its gasification technology to chemically recycle cellulose acetate production scrap from eyewear manufacturing. It will then supply recycled acetate flakes for use in making new eyeglasses frames. Eastman calls its technology, which it uses at its Kingsport, Tenn. headquarters location, "carbon renewal technology." It involves using heat, pressure and steam to break plastic down into carbon and hydrogen atoms, which Eastman then uses as building blocks to make chemicals used in various products. In the latest deal, Eastman will produce Acetate Renew-branded flakes – made up of 60% bio-based and 40% chemically recycled plastic – to a company called Mazzucchelli 1849, which will produce acetate sheets for eyewear production.
More stories about technology