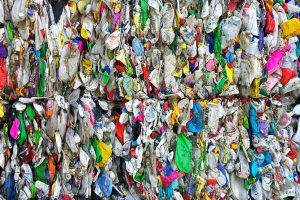 Mixed plastics are the feedstock for a chemical recycling partnership between resin giant Sabic and home goods manufacturer Tupperware Brands.
Sabic, headquartered in Saudi Arabia, and Tupperware are working together on the Europe-based pilot project, which uses post-consumer scrap plastics Nos. 3-7 to create new resin through a chemical process. Tupperware is using the resulting resin to produce reusable straws and on-the-go coffee cups.
The products will be introduced onto the market this summer, according to a press release.
Lindsay Clarkmead, senior communications business partner at Sabic, told Plastics Recycling Update the project uses a pyrolysis process to convert the scrap plastic into oil. The plastic is subjected to high temperatures in an inert atmosphere, and the process triggers thermal decomposition of the scrap materials, producing an oil.
The raw oil must be further processed before it can be used as a feedstock in Sabic's naphtha crackers, Clarkmead explained, and the company is designing and building a unit to upgrade the oil so it meets the required specifications.
Sabic, based in Saudia Arabia, is bringing in mixed plastic bales to its Geleen, Netherlands production facility and isolating out PE and PP for Tupperware's end products. Resin converted through the pyrolysis process makes up 100% of the feedstock for the straw and cup end products.
"The portable reusable straw and on-the-go coffee cup were chosen as the pilot products as they align with the enhancement of Tupperware's commitment to reduce waste with reusable, innovative, safe and environmentally responsible products," Clarkmead said. "These products are ones that aid in the reduction of single-use plastic products and thus align with the advancement towards a more circular economy."
After processing by Sabic, the resin will go to a Tupperware manufacturing plant, and the end products will be sold in select markets around the world, according to the company.
Sabic and Tupperware declined to state the volume of post-consumer plastic being consumed through this process and the cost difference for Tupperware between using the chemically recycled resins versus virgin plastic.
Tupperware Brands is a publicly traded company based in Orlando, Fla. and has reported annual revenue of roughly $2.2 billion in recent years.
Tupperware's recycled plastic use comes amid a larger company emphasis on waste reduction and recycling. In early June, the company announced an initiative called "No Time to Waste," aiming to reduce plastic and food waste in the next several years.
As part of that push, Tupperware plans to improve a process that allows customers to return Tupperware containers for recycling. By 2025, the company has a goal to recycle 90% of the products that are returned through this process.
Photo credit: maciej nicgorski/Shutterstock
To receive the latest news and analysis about plastics recycling technologies, sign up now for our free monthly Plastics Recycling Update: Technology Edition e-newsletter.
More stories about technology