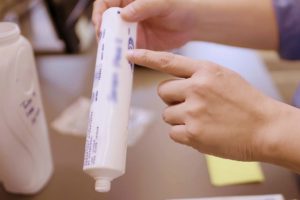 Colgate-Palmolive has developed a toothpaste tube that passed tests for sortability by materials recovery facilities and processability by plastics reclaimers.
The Association of Plastic Recyclers (APR) announced its recognition of the tube at its June 4-6 member meeting in Minneapolis.
Colgate-Palmolive said the tube, the first of its kind, is the product of significant R&D. According to the APR letter confirming the packaging meets APR criteria for recycling alongside HDPE bottles, the "Samson" tube is a pigmented, low-melt-flow HDPE. It has 5% or less EVOH used as a barrier layer, tie layers and a PET insert. The printing is done directly on the tube.
"The Association of Plastic Recyclers appreciated the opportunity to partner with Colgate on this important project. Tubes are one of the most widely used forms of plastic packaging that still cannot be recycled," Steve Alexander, APR's president, stated in a press release. "There is a lot of work ahead, but we believe Colgate is off to a great start."
(Disclosure: In March, APR purchased Resource Recycling, Inc., which publishes Plastics Recycling Update.)
According to the Colgate press release, the tube has been under development for five years. Most tubes are made of layers of different plastics, often sandwiched around a barrier layer of aluminum. The multi-material composition makes the packaging difficult to recycle.
Colgate-Palmolive engineers in Piscataway, N.J. tested using layers of different grades of HDPE to achieve the needed customer squeezability, product preservation, high-speed production and recyclability properties, according to the press release. They tested using between six and 20 different layers before finding the right "recipe," according to the release.
As part of the recyclability evaluations, Colgate had tests conducted to ensure the tubes could be successfully sorted into HDPE bales at materials recovery facilities (MRFs). "Colgate used radio frequency identification (RFID) tags to track the tubes and prove they would be properly sorted with plastic bottles," according to the company.
The company also underwent testing to ensure a plastics reclaimer could produce saleable resin from it for use in bottles.
Colgate acknowledged more work needs to be done to ensure the tubes actually get recycled on a widespread basis. The company must build awareness and support among MRFs, plastics reclaimers and municipalities that oversee recycling programs about the tube's recyclability. Colgate noted it is working with research and consulting firm More Recycling and with The Recycling Partnership, which provides recycling money and assistance to governments.
The Samson tube will debut under Colgate-Palmolive's Tom's of Maine brand in the U.S. in 2020. After that, it'll be rolled out to select global markets under the Colgate brand. The company expects to convert all of its toothpaste tubes to the recyclable version by 2025.
"Once we've proven the new tube with consumers, we intend to offer the technology to the makers of plastic tubes for all kinds of products," Justin Skala, executive vice president and chief growth and strategy officer for Colgate-Palmolive, stated in the release. "By encouraging others to use this technology, we can have an even bigger impact and increase the long-term market viability of this solution."
Photo courtesy of Colgate-Palmolive.
To receive the latest news and analysis about plastics recycling technologies, sign up now for our free monthly Plastics Recycling Update: Technology Edition e-newsletter.
More stories about challenging materials