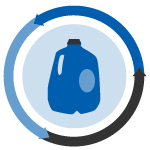 Starlinger's post-consumer PET processing lines are coming to a Pennsylvania facility, and an acrylic glass depolymerization project is launched.
Developing triggerable additives: A European Union-funded project will explore additives for improving the recyclability of clothing, electronics, automotive components and other coated and painted plastic materials. The 6 million euro (nearly $6.7 million USD) DECOAT project will look at additives that are triggered by heat, humidity, microwaves or chemicals. The idea is that once triggered in a recycling facility, the additives would help remove coatings so the rest of the item can be more easily recycled. Details were provided by one of the project partners, Devan Chemicals.
Conversion tech in action: A couple of conversion technologies are being put to use in the UK, Recycling International reports. First, recycling company Enval is using microwave-induced pyrolysis on pouches containing aluminum and plastics. The process breaks the plastics down into hydrocarbons while leaving the thin aluminum foil layer intact so it can be recovered. According to Recycling International, the hydrocarbons are later separated into gas, which can help power the process, and oil, which can be sold as fuel or feedstock for chemical manufacturing. In a separate project covered by the publication, startup Recycling Technologies is converting post-consumer packaging collected at Tesco supermarkets into Plaxx, an ultra-low-sulphur oil that can be used to make waxes, new plastic or fuels.
PET equipment installation: Starlinger will have plastics recycling lines at all three CarbonLITE PET recycling facilities, the equipment manufacturer announced. The Austrian equipment company said it will deliver recoSTAR PET systems with a total capacity of 5.4 tons per hour to CarbonLITE's new facility in Pennsylvania by the end of the year. The recoSTAR lines will process washed flakes into food-grade RPET. They will take in clear flake, colored flake and fines generated in the washing and grinding steps. CarbonLITE's facilities in Riverside, Calif. and Dallas already use Starlinger equipment.
Multi-layer packaging challenge winner: And the winner of the 2019 Flexpack Recovery Challenge is … ReNew ELP, a UK company that uses catalytic hydrothermal reactors (CAT-HTR) to convert plastics into oil and chemicals. The FlexPack Recovery Challenge is hosted by the Sustainable Packaging Coalition and the Center for the Circular Economy. Plastics Recycling Update highlighted the five challenge finalists in March. The winner announcement explained why the judges liked RenewELP: "We were impressed with the processing capacity scale (up to 80,000-100,000 tons per year in their initial facility) and the fact that their unique CAT-HTR technology allows for mixed waste feedstocks, including paper, PET and organics. Their modular approach considers variable material costs in different markets and their end markets for diverse hydrocarbon products like oils, waxes, and chemicals represent large market potential."
PP clarifier additive: A scrap PP purifying technology coming on-line in Ohio will get a boost from additive supplier Milliken & Co. Plastics News (subscription required) reports Milliken & Co. has an exclusive relationship to provide its PP clarifiers to PureCycle Technologies, which is building a massive PP recycling facility on a former Dow site in southern Ohio. PureCycle licenses a purification technology developed by Procter & Gamble. Nestlé has also partnered to make packaging from post-consumer plastic produced by PureCycle.
Plexiglass recycling project: Chemical industry news outlet ICIS takes a look at a European project to recycle polymethyl methacrylate (PMMA), better known as acrylic glass or plexiglass. With a budget of 8.9 million euros (nearly $10 million USD), the MMAtwo project seeks to depolymerize PMMA scrap to create monomers that can be purified and used to make new plastic. The project aims to build a plant in The Netherlands that would be run by Heathland, a Dutch reclaimer that processes production scrap PMMA, PC, PA, ABS and other plastics.
Plastics recycling awards: The 2019 Plastics Recycling Awards Europe winners include recycled-content products, recycling technologies and an industry professional. Winners received trophies made from ABS from car dashboards and HDPE bottle caps recovered from beaches. More details on the winners of the awards, which are now in their second year, are available online. "Together our seven winners show outstanding innovation in recycling to use plastics in a truly sustainable and circular way," Ton Emans, Plastics Recyclers Europe (PRE) president and an awards judge, stated in a press release.
To receive the latest news and analysis about plastics recycling technologies, sign up now for our free monthly Plastics Recycling Update: Technology Edition e-newsletter.